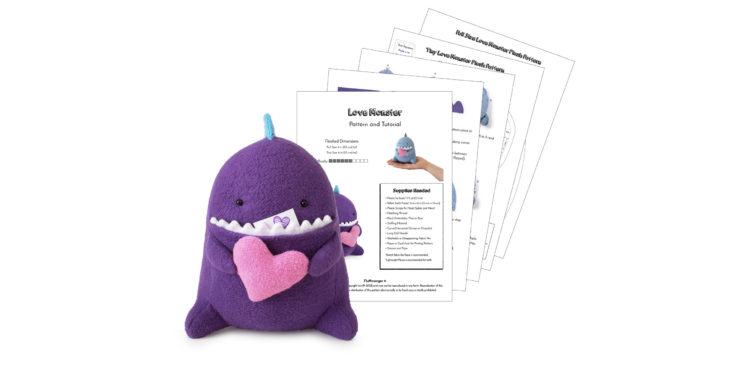 Organic Plush . Organic Plush Toy Designs . Sewing Patterns
Love Monster Sewing Pattern (in 2 Sizes!) – Plush PDF Pattern
On February 2, 2021 by fluffmonger
It's hard to believe it's been a year since I released my last plush sewing pattern, but I've finally gotten back to the sewing machine and decided to release a pattern for one of my most requested designs—the Love Monster! I originally created my Love Monster in 2016, but I've updated the pattern, increased the pocket size, and created a tiny version of the pattern for making a Love Monster in 2 sizes! This pattern is a paid pattern that is available in my Etsy shop.
The PDF pattern provides easy to follow, step-by-step instructions with photos as well as links to video tutorials for some of the steps requiring skills that may be new for beginners.
Difficulty level: 5.5/10 – The Love Monster is relatively easy to sew, but the pocket and teeth make it an intermediate pattern. The pocket requires a few more steps than an easy pattern, like the Chubby Bunny. Sewing the teeth for the Love Monster may be challenging for beginners, but the PDF has a link to a video tutorial on how to sew teeth. The teeth can also be left out entirely for a toothless Love Monster, which is equally as cute!
The Love Monster pattern comes with a 1/4-inch (6 mm) seam allowance that includes the stitch line in case you prefer to sew patterns without a seam allowance. The finished full size Love Monster is approximately (9-in/23-cm tall), and the tiny size is (4-in/10-cm tall). Fleece fabric (poly or natural) is recommended, but the body, spikes, and heart can also be sewn with minky, velour, or even a lightweight, knit sherpa if you are an experienced sewist. The teeth require a lightweight fleece with low pile (in order to show the details). The Love Monster shown in main photo is made with organic cotton and hemp fleece. The pattern was designed for stretch fabric like fleece but can be sewn with woven fabric for a slimmer Love Monster (see Francesca's Love Monster in tweed in the pattern tester's photos below).
Materials
You'll need:
Links with an asterisk (*) are affiliate links. If you make a purchase through one of them, I get a small percentage of the sale with no extra cost to you.
Love Monsters by Pattern Testers
Here are some of the cuties made by my lovely pattern testers!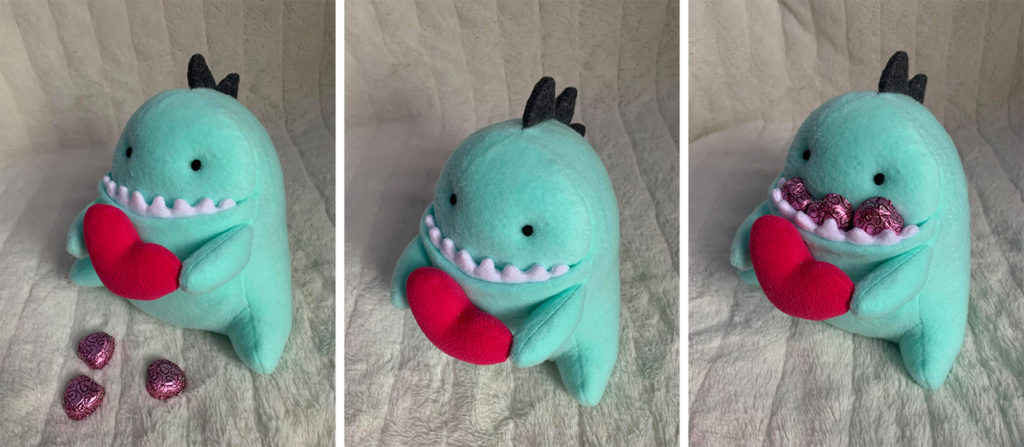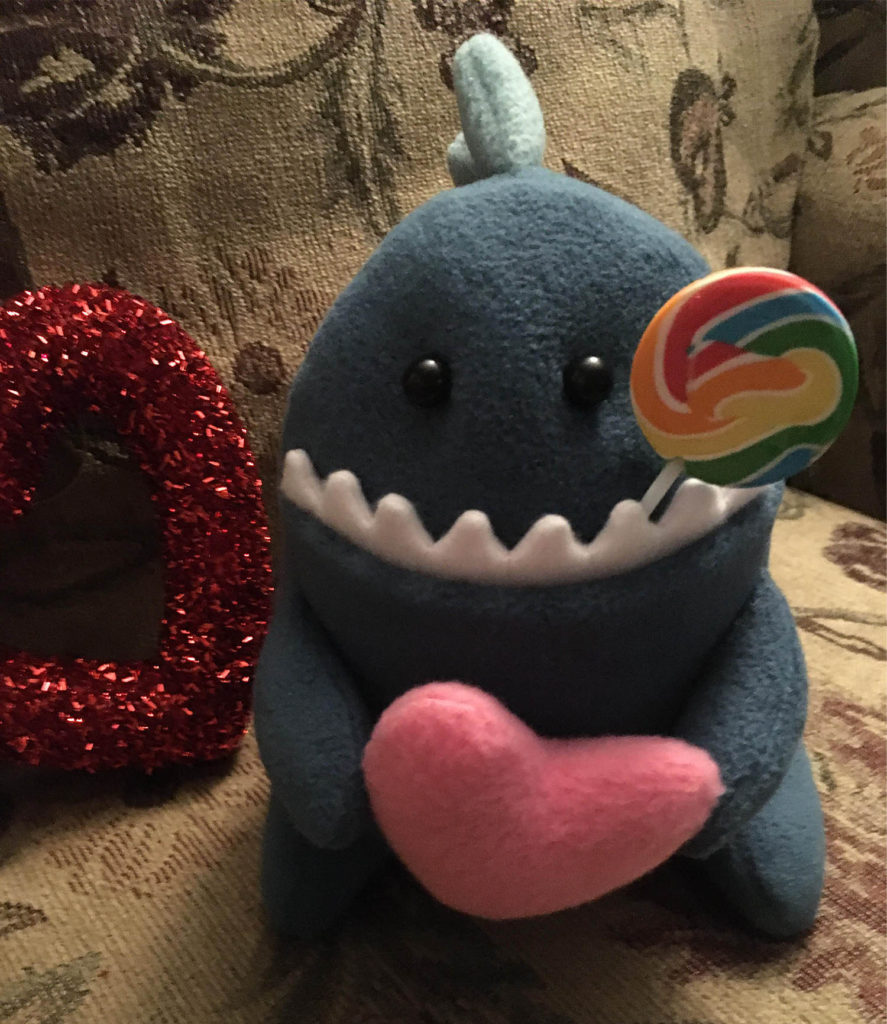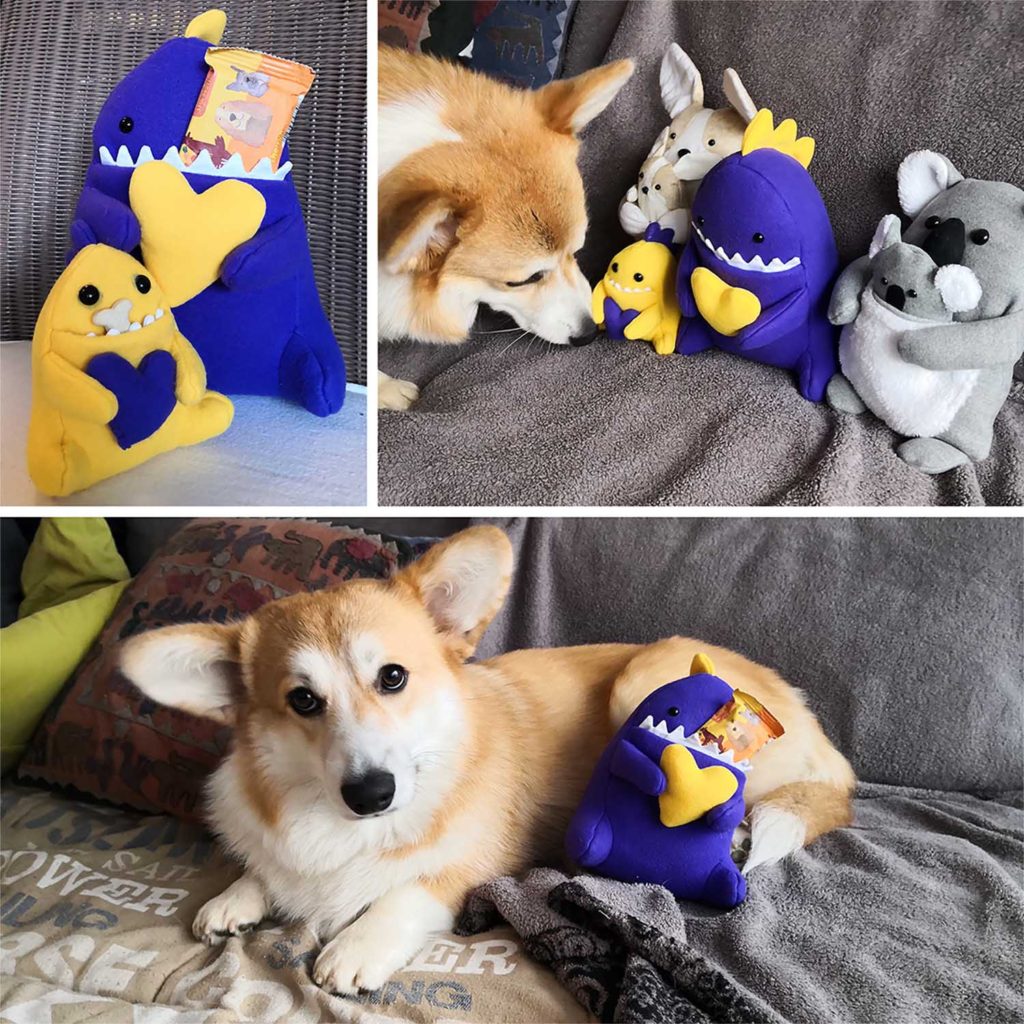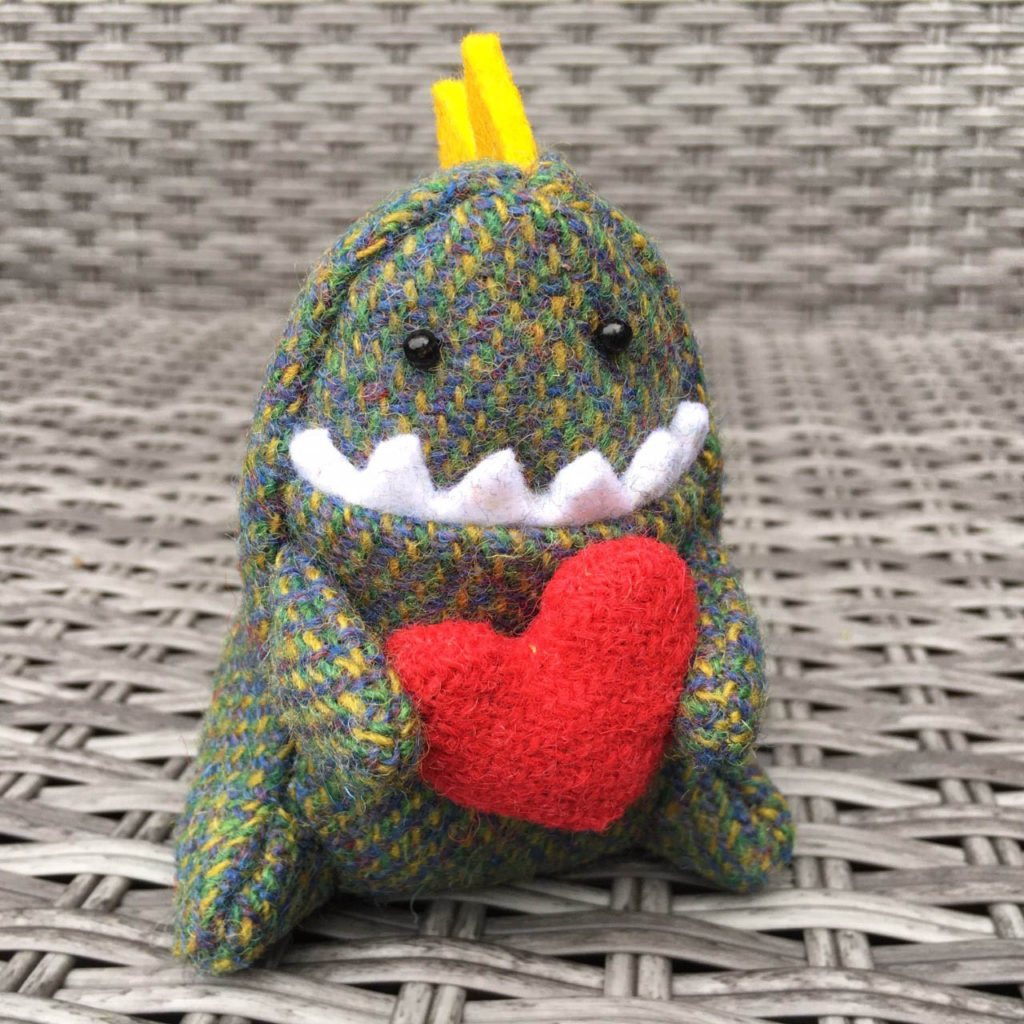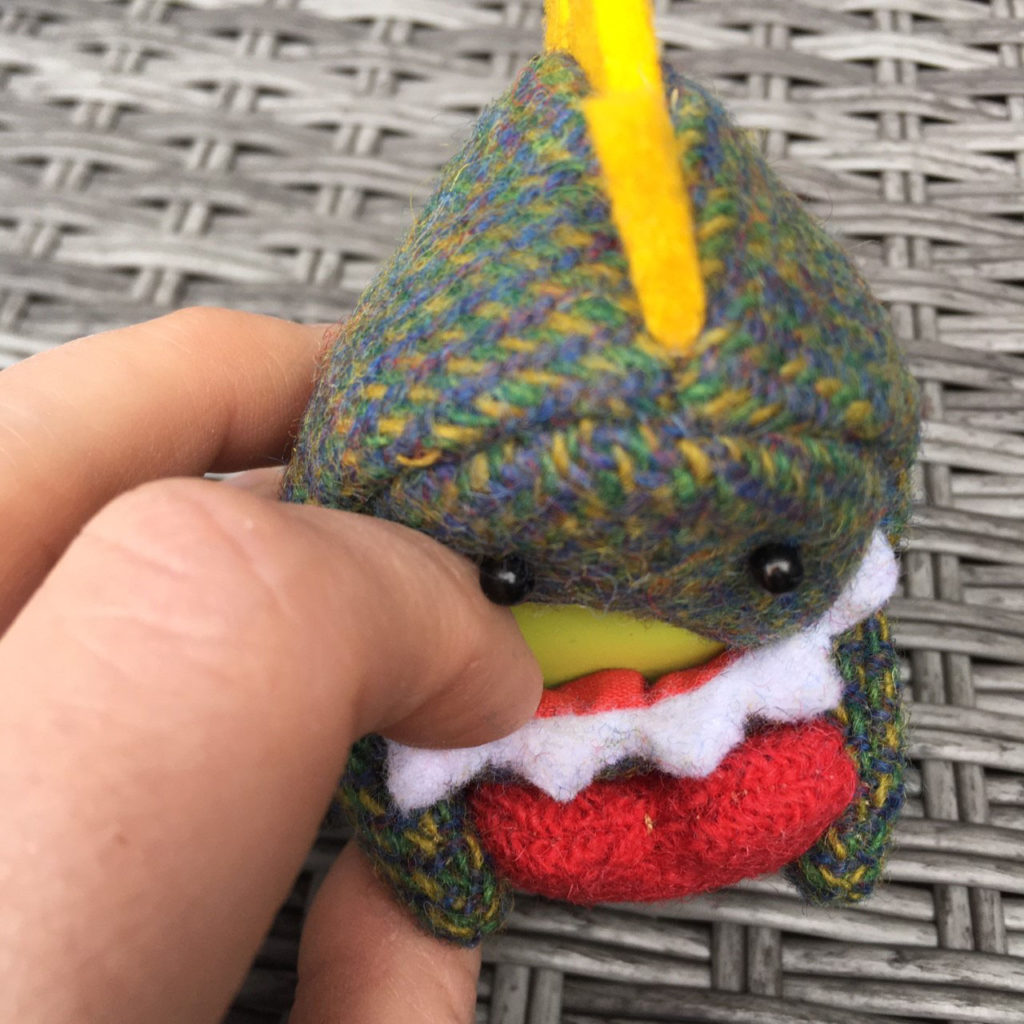 Get the pattern here!
Show Me Your Creations!
I'd love to see what you make with this pattern! Post your photos in my Fluffmonger Patterns group on Facebook or share them with Fluffmonger on social media using #fluffmongerpatterns!
Organic Fabric Kits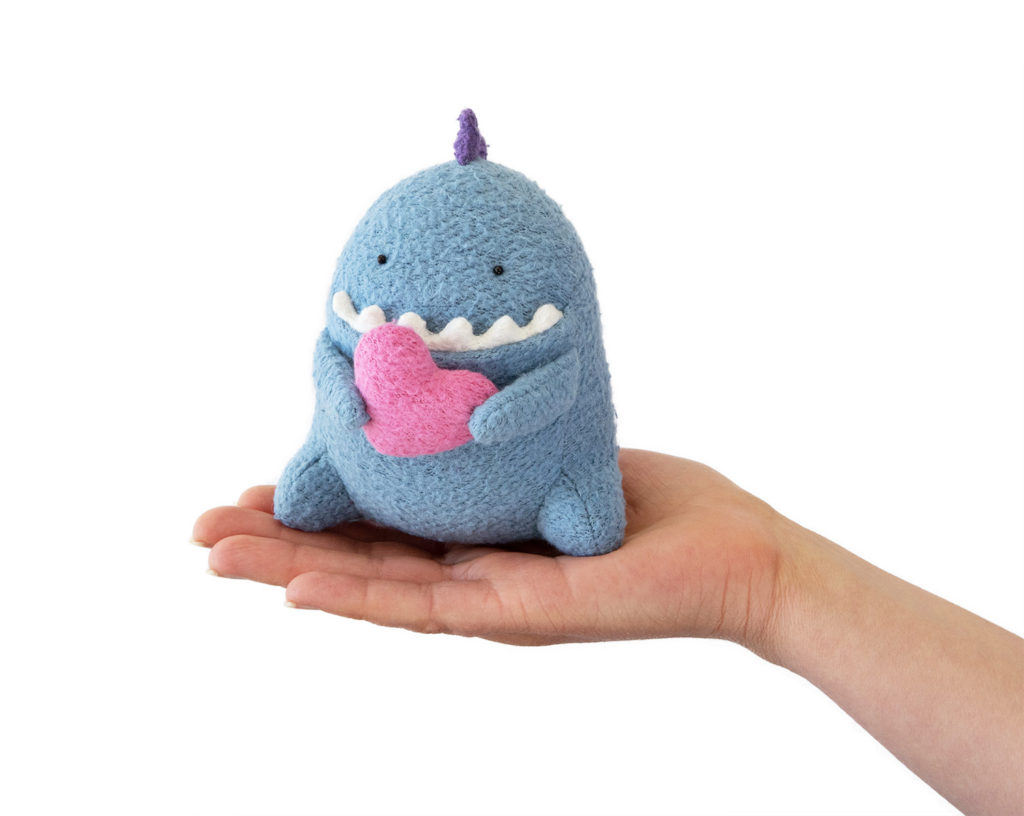 If you'd like to try sewing a tiny Love Monster with organic fabric, I have fabric kits available with just the right amount of hand-dyed organic fabric to complete the project. I'm running very low on dyed organic fleece, so I was only able to make kits for Tiny Love Monsters for the time being.
Selling Items Made with this Pattern or Creating Derivative Works
This pattern may be used to create handmade toys to sell, but items may not be mass-produced. Please give credit to Fluffmonger with "pattern by Fluffmonger" and a link to my website, www.fluffmonger.com on your tags and listings.
If you modify the pattern or use certain pieces to create another pattern, still credit Fluffmonger, as these are considered derivative works.
This design is protected by federal copyright law (© 2021) and may not be reproduced in any form. Reproduction of this design, either in part or whole, or distribution of this pattern electronically or by hard copy is strictly prohibited.
5 comments
Calendar
February 2021
S
M
T
W
T
F
S
1
2
3
4
5
6
7
8
9
10
11
12
13
14
15
16
17
18
19
20
21
22
23
24
25
26
27
28