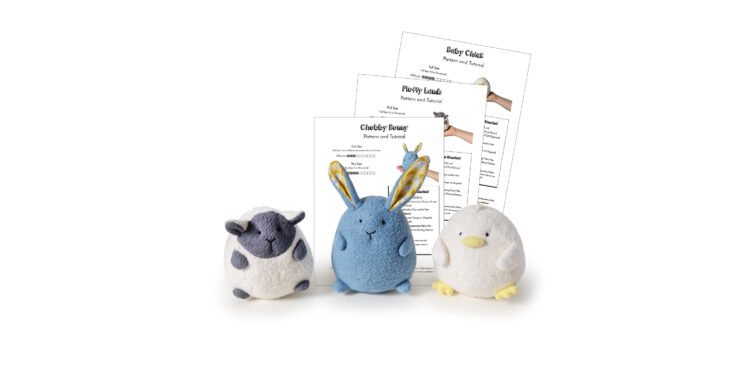 Organic Plush Toy Designs . Sewing Patterns
Spring Stuffed Toys — Baby Chick, Chubby Bunny, and Fluffy Lamb Plush Sewing Patterns in 2 Sizes!
On March 3, 2021 by fluffmonger
To celebrate the upcoming arrival of spring, I've updated my Chubby Bunny pattern to include a pattern for making tiny chubby bunnies! I've also made two additional PDFs for a baby chick and fluffy lamb plush sewing pattern!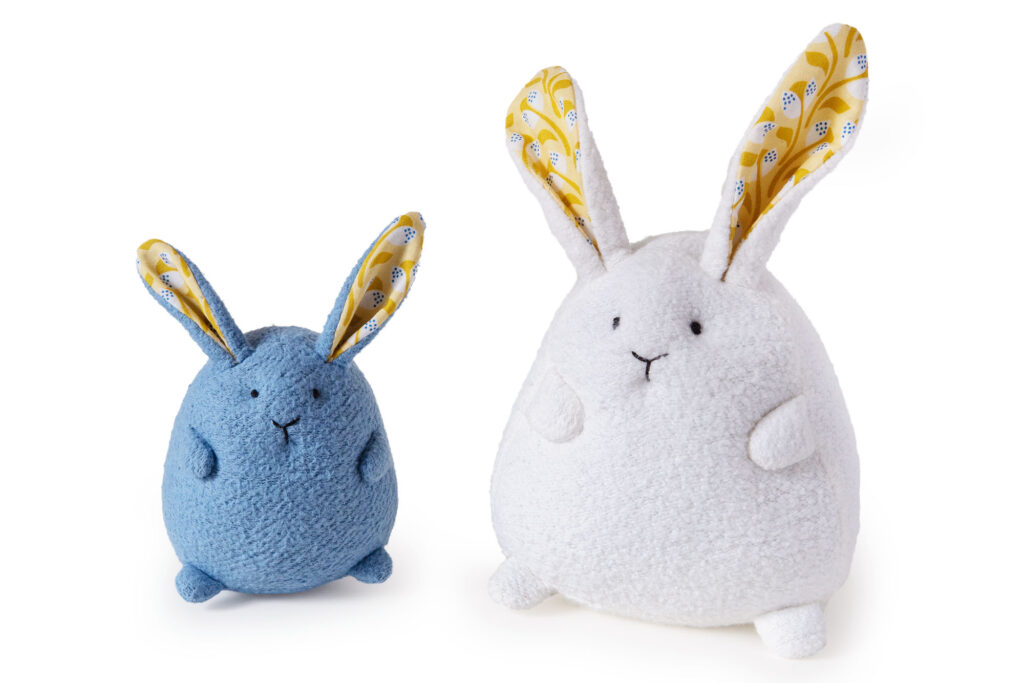 All three PDF patterns—the Fluffy Lamb, Baby Chick, and Chubby Bunny—come in two sizes and can be purchased in my Etsy shop individually, or you can get three for the price of two by purchasing the set! They provide easy to follow, step-by-step instructions with photos as well as links to video tutorials for certain steps that may be challenging for beginning sewists.

Each pattern comes with a 1/4-inch (6 mm) seam allowance that includes the stitch line. The finished full-size lamb, chick, and bunny are approximately 5.5″ tall (9″ including the bunny ears). The tiny versions are approximately 4″ tall, but either size will make the perfect addition to Easter baskets! Fleece fabric (poly or natural) is recommended for the tiny size chick, lamb, and bunny, but the pattern can be sewn with sherpa, minky, or velour if you are an experienced sewist.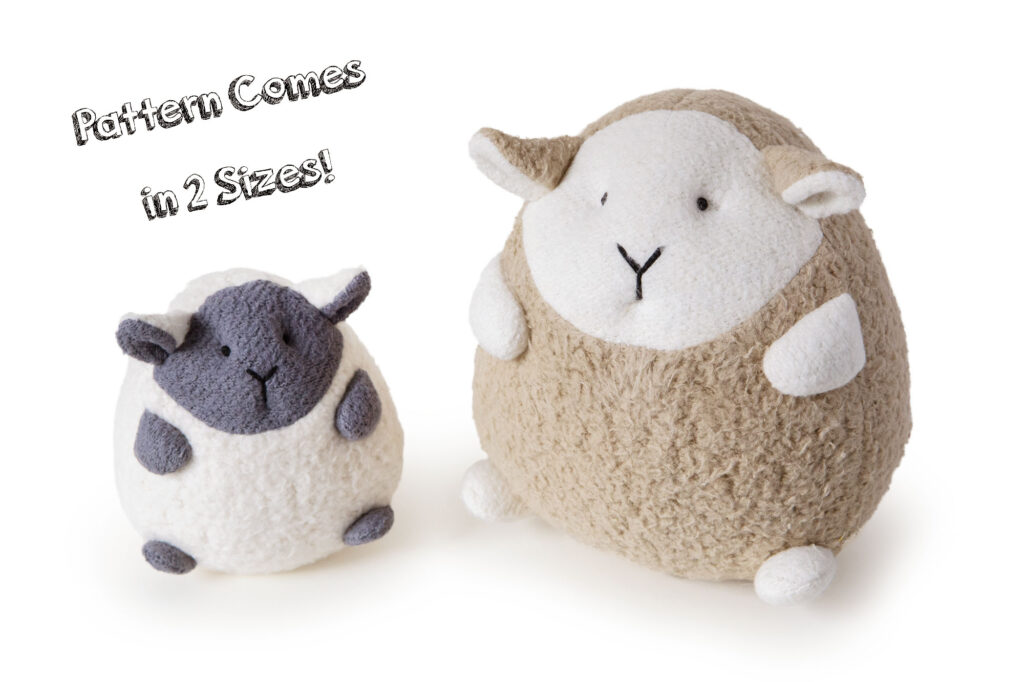 Materials
You'll need:
Body Fabric (Fleece or Sherpa) 1/4 yd (23 cm)
BUNNY ONLY—Inner Ear Fabric (Fleece or Woven) 6-in X 6-in (15-cm X 15-cm)
LAMB ONLY—Face and Leg Fabric (Fleece) 1/8 yd (12 cm)
CHICK ONLY—Foot and Beak Fabric (Fleece) 1/8 yd (12 cm)
CHICK ONLY—Faux Fur Scrap for Head Tuft (Optional)
Stuffing (I like to stuff with organic roving* or polyester fiber stuffing*)
Doll Needle (I carry these in my Etsy shop)
Matching all-purpose thread (I carry organic thread in my Etsy shop)
Marking tool (like this disappearing pen* or this water soluble pen*)
Scissors
Tool for turning (hemostat clamps* or a chopstick)
Tape
Pins or clips*
Paper or card stock for printing pattern
Links with an asterisk (*) are affiliate links. If you make a purchase through one of them, I get a small percentage of the sale with no extra cost to you.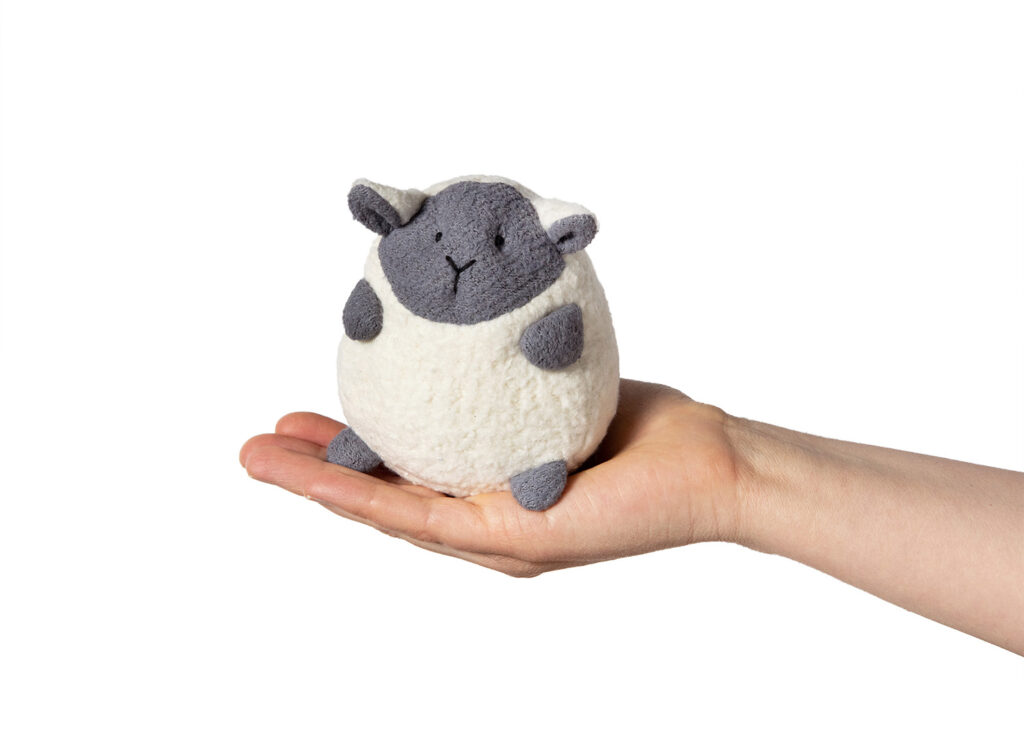 Pattern Testers' Creations
Here are some of the adorable creations my pattern testers made with the patterns!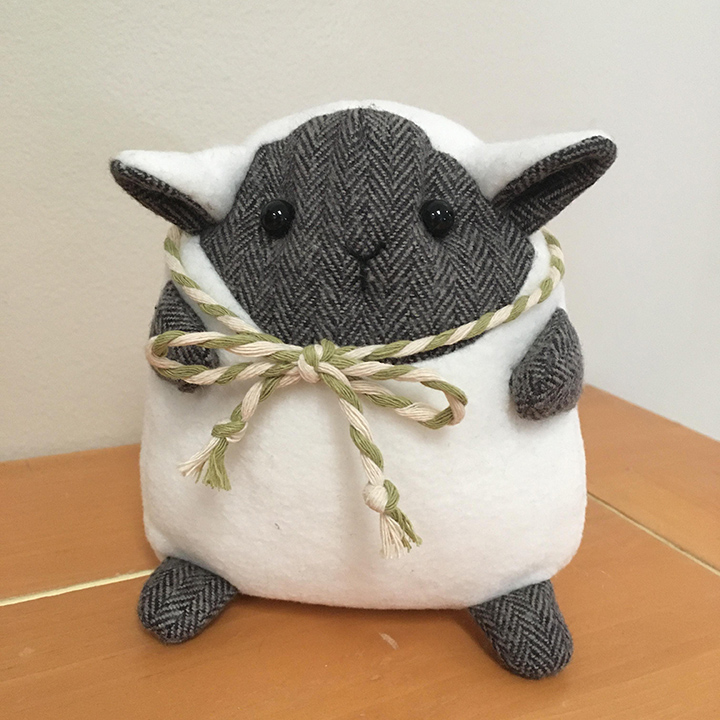 I'd love to see what you make with these patterns! Join my Facebook group, Fluffmonger Patterns, where you can ask questions, post photos, and make friends!
Organic Kits Coming Soon!
I'm in the process of getting fabric kits assembled for the chick, lamb, and bunny and will have them in my Etsy shop in the next week!
Selling Items Made with this Pattern or Creating Derivative Works
This pattern may be used to create handmade toys to sell, but items may not be mass-produced. Please give credit to Fluffmonger with "pattern by Fluffmonger" and a link to my website, www.fluffmonger.com on your tags and listings. If you modify the pattern, still credit Fluffmonger, as these are considered derivative works.
This design is protected by federal copyright law (© 2021) and may not be reproduced in any form. Reproduction of this design, either in part or whole, or distribution of this pattern electronically or by hard copy is strictly prohibited.
Head on over to my Etsy shop now for the patterns!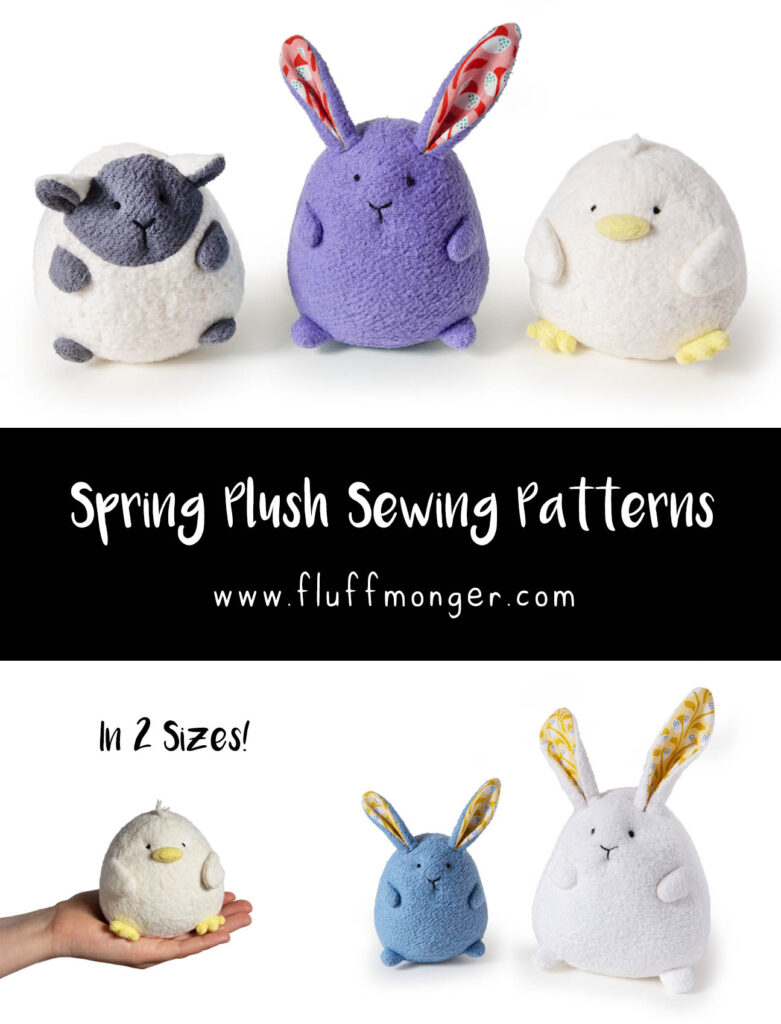 1 comment
Calendar
March 2021
S
M
T
W
T
F
S
1
2
3
4
5
6
7
8
9
10
11
12
13
14
15
16
17
18
19
20
21
22
23
24
25
26
27
28
29
30
31