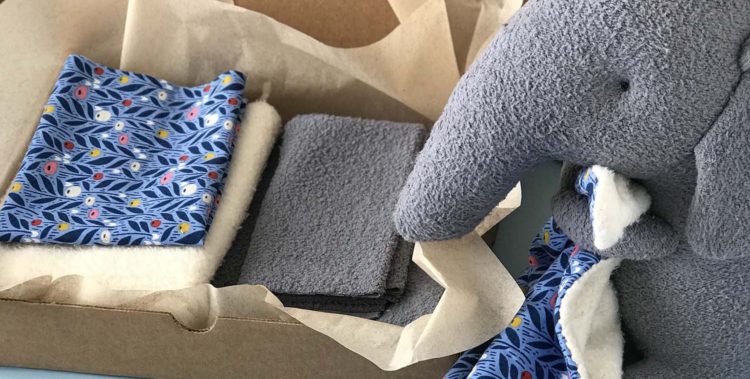 Conscious Consumerism . Natural Living and Health . Sewing Patterns
A Look Inside Fluffmonger Organic Sewing Kits
On February 1, 2018 by fluffmonger
Since releasing my Quigley the Corgi sewing pattern, I've been overwhelmed by the interest in the hand-dyed organic fabric I used in the video tutorial. I listed a few organic sewing kits in my shop to gauge interest, but I wasn't expecting the response I received! I'm overjoyed so many people want to try sewing with organic materials! I've decided to release another kit for one of my patterns and add some organic sewing supplies to my Etsy shop. Here's a closer look at what goes into the kits and what to expect when sewing with them.
About the Fabric
The majority of the organic fabrics I use are greige fabrics, meaning they have not been washed, dyed, or treated with any sort of chemical finish when I purchase them. Greige fabrics shrink considerably more than treated fabric. They shrink once after scouring and drying with high heat, and once again after they are dyed. The organic cotton/hemp fleece I use for my kits typically loses a minimum of 7 inches in length per yard after being washed, dyed, and dried, which is A LOT!
I do my best to ensure the companies I purchase my fabrics from adhere to using the best quality organic fiber and fair labor practices. If at all possible, I try to buy GOTS certified organic fabrics. Products with GOTS certification must contain a minimum of 95% certified organic fibers, whereas materials simply labeled 'organic' are only required to contain 70%. GOTS certified materials are tracked through the entire supply chain. They're inspected by independent third-party testers to ensure the fibers come from farms in compliance with organic farming regulations and are not treated with substances that do not meet certain health and ecological requirements. Certification also requires strict adherence to fair labor standards.
GOTS certification is often difficult for small companies to attain due to cost. Some organic textile companies meet the standards for GOTS certification but do not label their products as such simply because they can't afford the certification. Whenever I order fabric that is not GOTS certified, I contact the company beforehand to find out about the organic fiber content and requirements for labor used to produce the fibers and the fabric. If a company can't or won't provide that information, I don't order from them.

When the fabric I order arrives, it typically comes on a roll, which I cut it down into smaller, more manageable amounts for washing and dyeing. Next, I scour the fabric with hot water and organic soap. Then I dye the fabric with low-impact dyes and soak and wash the fabric two more times with organic soap. After the fabric is dry, it typically needs to be ironed and combed. Fabrics with nap, like fleece or sherpa, often get covered in pills during the washing and dyeing process, which I remove with a comb. Finally, I cut the fabric and assemble the kits.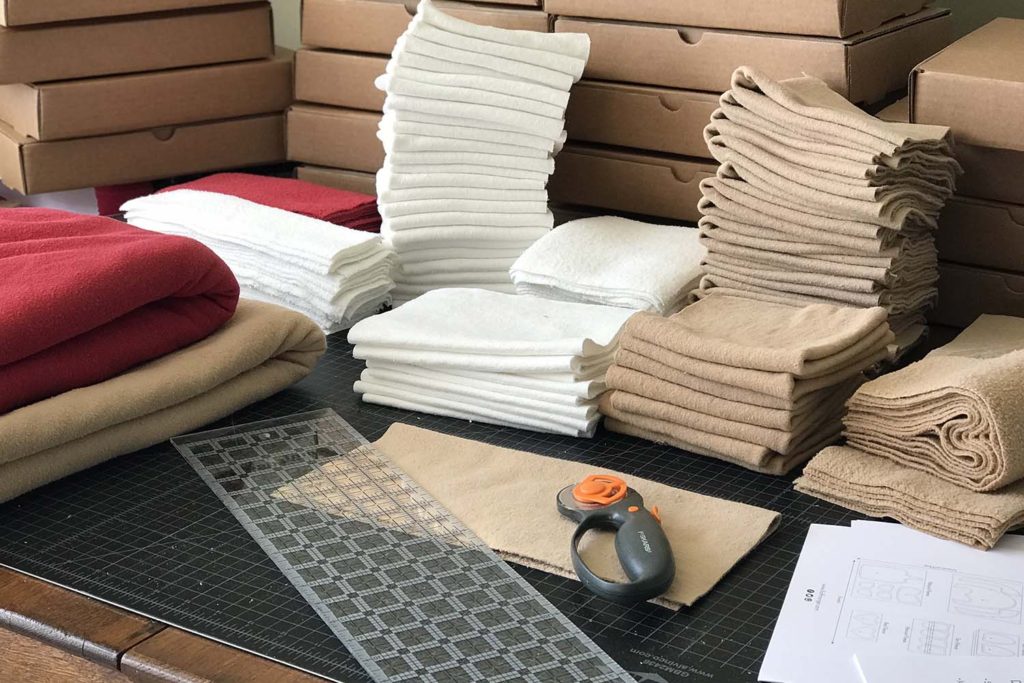 Since the fabric for the kits is hand-dyed, the color can vary from dye bath to dye bath and may have a slightly mottled appearance. I do my best to keep my measurements consistent so the colors won't vary, but there are a number of factors beyond my control that can affect the color including inconsistencies in the dye from my supplier, individual properties of the cellulose fibers (two different fabrics in the same dye bath may dye differently even if they are made from the same type of fiber), and fluctuations in the hardness of my tap water. Even un-dyed fabrics are not exempt from potential color fluctuations. This is especially true with hemp-based fabrics, like the organic cotton/hemp fleece I use in some of my kits. Hemp must be retted, which is essentially a rotting process that softens and separates the fibers through fermentation. Depending on how the hemp is retted, it can either be a golden, straw-like color or practically white from being bleached by the sun.
From personal experience, I know how difficult it is to find organic fabric, especially fluffy fabrics in a variety of colors. Few stores carry them, and selecting the right ones can be difficult to do online. Purchasing fabric swatches is often not enough to let you know how a fabric will perform when used for soft toys. I've tested over a dozen types of fleece from different companies and have found that a lot of them don't work well for sewing toys. Some stretch way too much and some stretch surprisingly very little. The amount of fluffy texture (or nap) also varies quite a bit from fabric to fabric. In the three years I've been using organic fabrics, every type of organic fleece or sherpa I've purchased has been notably different. The challenge of finding a company that carries all the organic fabrics you need for a project is enough to deter anyone from buying them. When shipping is taken into consideration, it can be incredibly expensive to buy everything you need for a project. Finding the right materials for sewing organic toys shouldn't be such a difficult process, which is why I decided to start carrying supplies for making organic toys in my shop.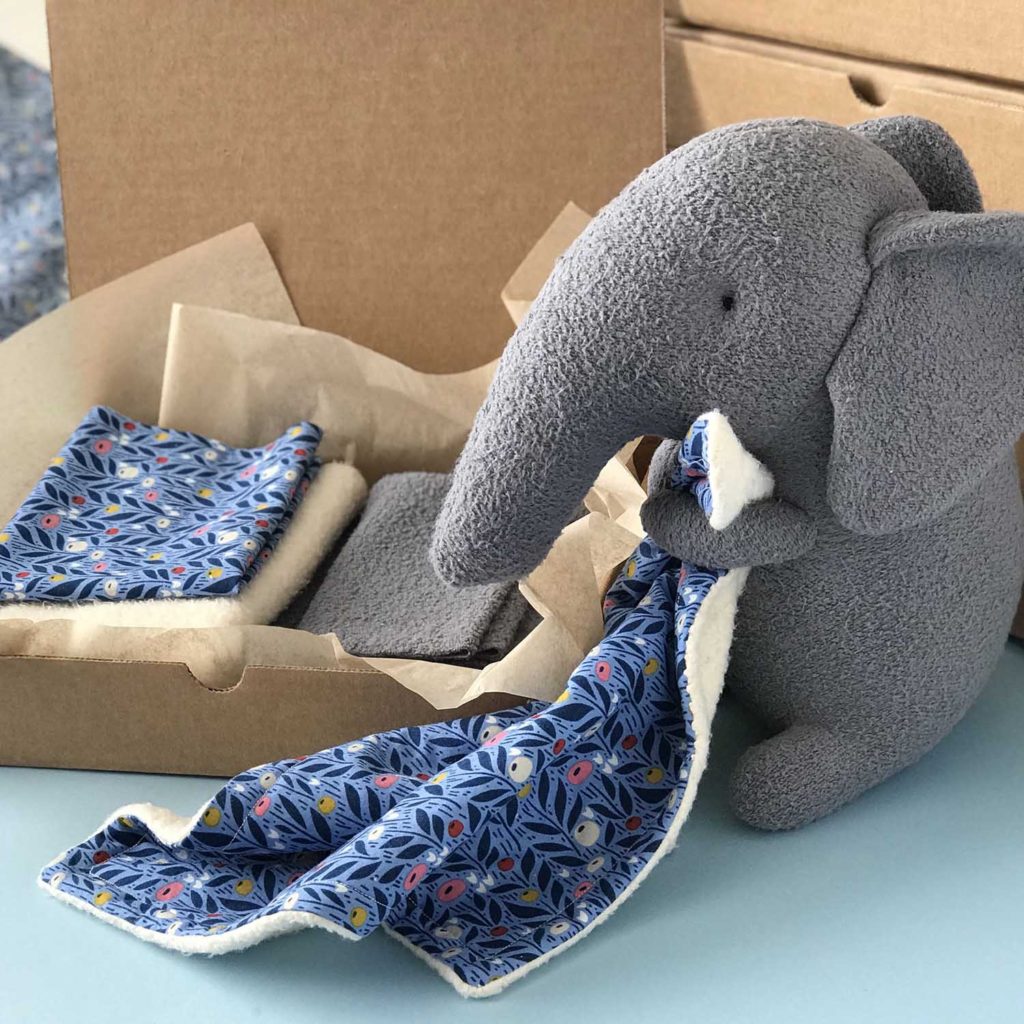 I've just added a new fabric kit for Rupert the Elephant to my shop that comes with a PDF sewing pattern and tutorial and enough hand-dyed fleece for making one elephant. The kit has two variations. Option 1 comes with red fleece for Rupert to hold a heart. Option 2 comes with organic cotton sherpa and choice of an organic cotton print for making a small baby blanket. I've also started carrying spools of organic thread, glass beads for eyes, and some sewing tools that can be purchased separately. It may take a while for me to learn the right amount of inventory for my shop, so please bear with me. I've started with small amounts of the essentials, and some items may sell out as I learn the demand for each one. If I'm ever sold out of something you're looking for, shoot me a message.

Sewing with Organic Materials
Sewing with organic fleece and sewing thread is slightly different from sewing with synthetic fiber materials. There are few things that are helpful to know about working with them.
First and foremost, always use a ballpoint needle when sewing with natural knit fabrics, like the fleece in my kits. There's a chance you'll end up with holes in your fabric if don't spring for the ballpoint needle. I recommend a 90/14 needle for sewing with organic fleece.
Natural fleece often stretches more than poly fleece both on the lengthwise and crosswise grain. I recommend reinforcing any straight stitches with a stretch or narrow zig zag stitch. Using some form of stretch stitch is imperative when sewing with organic thread. Organic cotton thread is not mercerized, so it has a lower tensile strength than standard all-purpose thread.
You may notice a bit more sewing dust and the need to frequently clean the lint out of your sewing machine when using organic fabrics. They aren't treated with multiple chemical finishes, so loose fibers are a bit freer to move around. (If you ever buy fluffy greige fabric, make sure to clean the lint out of the trap on your dryer every 30 minutes or so. When drying a load of fleece or sherpa, you can easily accumulate a pile of lint a couple of inches thick!)
In my opinion, sewing with organic fabrics is far superior to sewing with conventional fabrics. My hands always feel clean at the end of a project (with standard fabrics, my hands tend to feel sticky), I never have issues with needing to clean my iron plate (I flush my iron occasionally with vinegar to prevent mineral deposits inside the iron, but the plate itself never gets dirty), and I don't have to open the window or hold my breath to avoid noxious fumes when ironing organic fabrics. Using organic fabrics is better for your health, the health of the people who use what you sew, and the health of the farmers and textile workers who make the fabrics. When you think about the chemicals that can be inhaled from sewing dust and ironing fumes or that can come in contact with a child's sensitive skin (or even worse—their mouth), switching to organic fabrics just makes sense.
If you're interested in learning more about the health, environmental, and social impacts of the textile industry, I highly recommend the documentary The True Cost. It's free on Netfilx, and it gives an in-depth look at the need for change in how fabrics and clothing are made.




2 comments