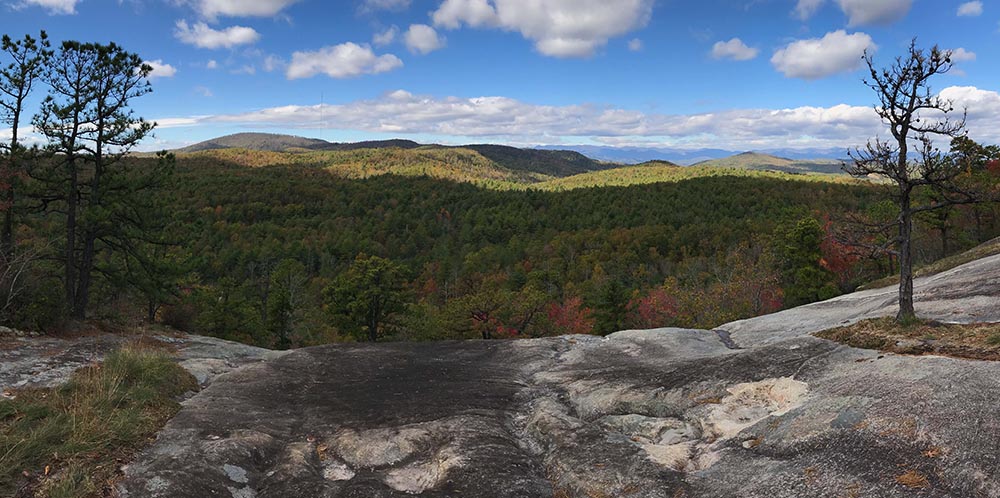 Natural Living and Health
Letting Go of My Fears and Finding the Silver Lining in Chronic Illness
On November 8, 2017 by fluffmonger
I recently spent a few days near Asheville, NC, for a much-needed change of scenery. This past year has been a difficult one for me due to some changes in my health, so it was therapeutic to get out of the house and spend some time in the mountains. I look forward to when I can go out on trails and enjoy the restorative effects of reconnecting with nature. While standing at the top of Cedar Rock Mountain and overlooking the vast expanse rolling hills, I realized I was ready to let go of one of my fears.
Those of you who read my blog regularly may know that I've had some issues with health problems. I've had debilitating migraines for over 20 years, and in 2012, I left my job as a public school teacher after being diagnosed with Lupus and mold illness. Long story short, I was experiencing daily migraines in addition to a mysterious illness that felt like a never-ending stomach bug. By the time I resigned, I had run the gamut of pharmaceutical options for treating my symptoms, so I started looking into natural ways to improve my health.  I switched to a whole food, organic diet and started preparing all of my meals at home, I replaced my personal and household products with natural, fragrance free alternatives, and I sought alternative medicine. My health improved enough for me to take up a hobby, and that's how I got into sewing.
When people ask me about myself, that's typically where I end the story. There's more to it, but until now, I've been too embarrassed to talk about it. While my health did improve after leaving my job, I've been unable to lead a "normal" life. I still experience frequent migraines and other symptoms that go along with having an auto-immune disease, but there's one symptom that keeps me confined to my house the majority of the time—hypersensitivity.
For those of you who experience, or know someone who experiences migraines, you know that sensitivity to smells, lights, and sounds commonly occur with migraine headaches. Over the years, I've had hundreds of migraines that lasted for days or weeks. Somewhere along the way, the hypersensitivity that occurred with my headaches started persisting even when I didn't have a headache. Over time, my sensitivities, especially to smells, intensified, and I began reacting to more and more things. I've developed sensitivity to fragrances, certain chemicals, bright or flashing lights, and an embarrassingly long list of foods.
My hypersensitivity has impacted how I live my life in every way. I seldom leave my house other than to walk at the park or go to the doctor. All it takes is a few whiffs of perfume, laundry detergent, air freshener, cigarette smoke, paint fumes, etc. for me to be knocked out with a migraine for a few days. When I'm exposed to irritating aerosols, I generally experience dizziness, heart palpitations, difficulty concentrating, and feel like the energy has been drained from my body. If I can't get away from something that's bothering me, I'll eventually get to where my speech is jumbled and I have coordination issues.
It's incredibly difficult to avoid fragrances and other aerosols that trigger migraines for me, so I typically won't go anywhere other than an uncrowded, outdoor park unless it's absolutely necessary. If there's something I really want to do, like meet a friend, sell at a craft fair, take a class, or even visit a family member's house, I try to plan my week so I can have a few days to recuperate if I get ill from the outing. I'm incredibly thankful for the handful of my friends and family members who have gone completely fragrance free and only use green cleaning products in their home so I can spend time with them without discomfort.
For a long time, I thought I was crazy—and many people over the years have kindly made that assertion for me—but when a number of new neurological symptoms popped up, I started thinking that perhaps there was more to it.
A couple of years ago, I developed tremors in my hands that would come and go. They would generally last for a few days or weeks, during which I couldn't work, and I could only find mild comfort by sitting or lying on my hands to minimize the jerking. Random numbness and weakness also appeared on areas of my head, eyelids, and throat that caused blurry vision and difficulty swallowing at times. My neurologist couldn't pinpoint what was causing my symptoms, so I started seeing an integrative physician who diagnosed me with Lyme Disease and a few co-infections of Lyme. While I've had tick bites that resulted in a rash before, I initially didn't think much of the diagnosis. I've been given a number of diagnoses over the years—Lupus/Sjogren's/Undifferentiated Connective Tissue Disease, Cerebellar Ectopia, Hashimoto's Thyroiditis, Polycystic Ovarian Syndrome, Interstitial Cystitis, OCD, depression, and anxiety—none of which ever led to a treatment plan that brought improvement. I didn't want to start rounds of antibiotics and antivirals because I don't do well with pharmaceuticals due to my sensitivities (the last time I tried a new medication, I ended up in the hospital for a week with rhabdomyolysis). I also didn't want to have to tell people I have Lyme Disease. There's a lot of stigma that comes with the diagnosis—primarily, people think you're crazy—so I took the news with a grain of salt and went on my way. It wasn't until I started having numbness and weakness on a daily basis, incessant ice pick stabbing pains in my head, and my neck became so stiff I had to turn my whole body to look to my side that I started to wonder if my symptoms might be Lyme related.
I made one last trip to my neurologist to rule out any other possibilities. He ran more tests, and determined I had "something like viral meningitis" that should get better in a week. When it didn't improve, he offered steroids. At that point, I talked with my integrative doctor who said, "Yeah, those can all be symptoms of Lyme Disease."
After finally accepting the diagnosis, I opted to go with an alternative treatment for Lyme, which I started in September. I've seen a few improvements with some of the meningitis-like symptoms, not yet with the migraines or hypersensitivity, but I've been able to return to working from home at least a few days a week.
If there's one thing I can say living with chronic illness has given me, it's direction in life. If it weren't for my experience with illness and hypersensitivity, I wouldn't have started a home-based business selling organic plush toys. I loved teaching when I was a public school teacher, but I always felt like something was missing. After connecting with other people suffering from chronic illness and hypersensitivity through my business, I've become aware of the demand for information on how to work with natural sewing materials. There are so many people who, like me, have had to abandon their old diet, the products they use, their job, their hobbies, and even quality time with friends and family just to be able to function. Because using natural products is a necessity for them, they're eager to find resources on how to work with those types of materials. Since getting back into sewing again, I feel drawn to combine my passions for making organic plush toys and teaching to start a new chapter with my business creating sewing tutorials.
I've spent the majority of my adult life ashamed of my chronic illness and have been reluctant to talk about it in detail on my blog for fear of judgment. I've finally realized the benefits of being completely open about my journey with chronic illness and connecting with people who relate to my experience is what will allow me to do what I really feel like I'm meant to with my life.
27 comments