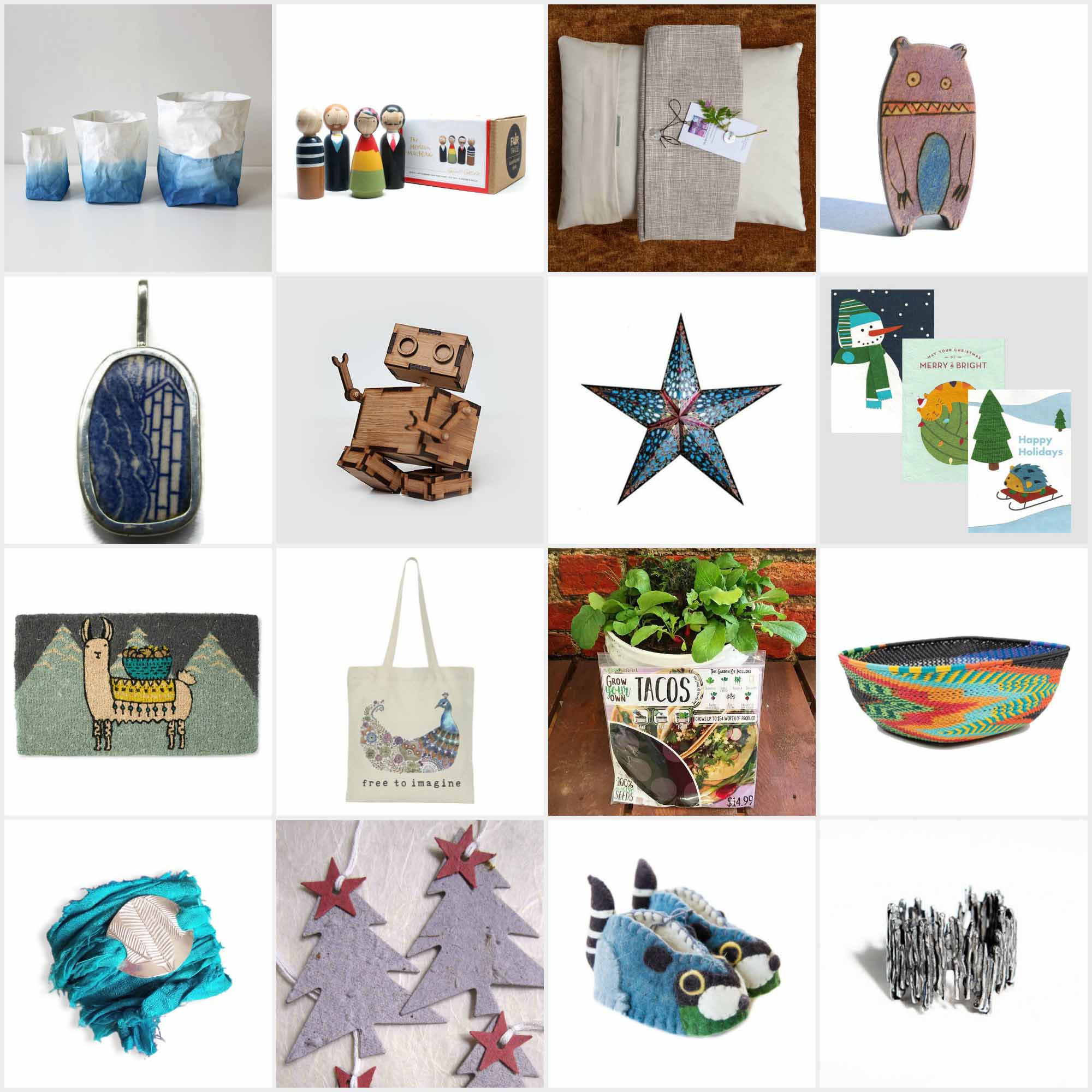 Conscious Consumerism
Ethically Made for the Holidays – A Gift Guide for the Conscious Shopper
On November 21, 2016 by fluffmonger
It's almost that time—the commencement of the biggest shopping season of the year! You may find yourself feeling a little stressed about the task of checking off your shopping list, and you're not alone. Where once the frustrations of holiday shopping ended at trying to find the perfect gift, there now are so many new things to worry about, such as the labor practices behind the gifts you want to buy. If you cringe at the thought of researching how every product is made, I've put together this gift guide filled with unique, ethically made items to help bring some relief to gift-giving this holiday season. All the items on this list are handmade by individual artists, small businesses in the US, or are fair trade.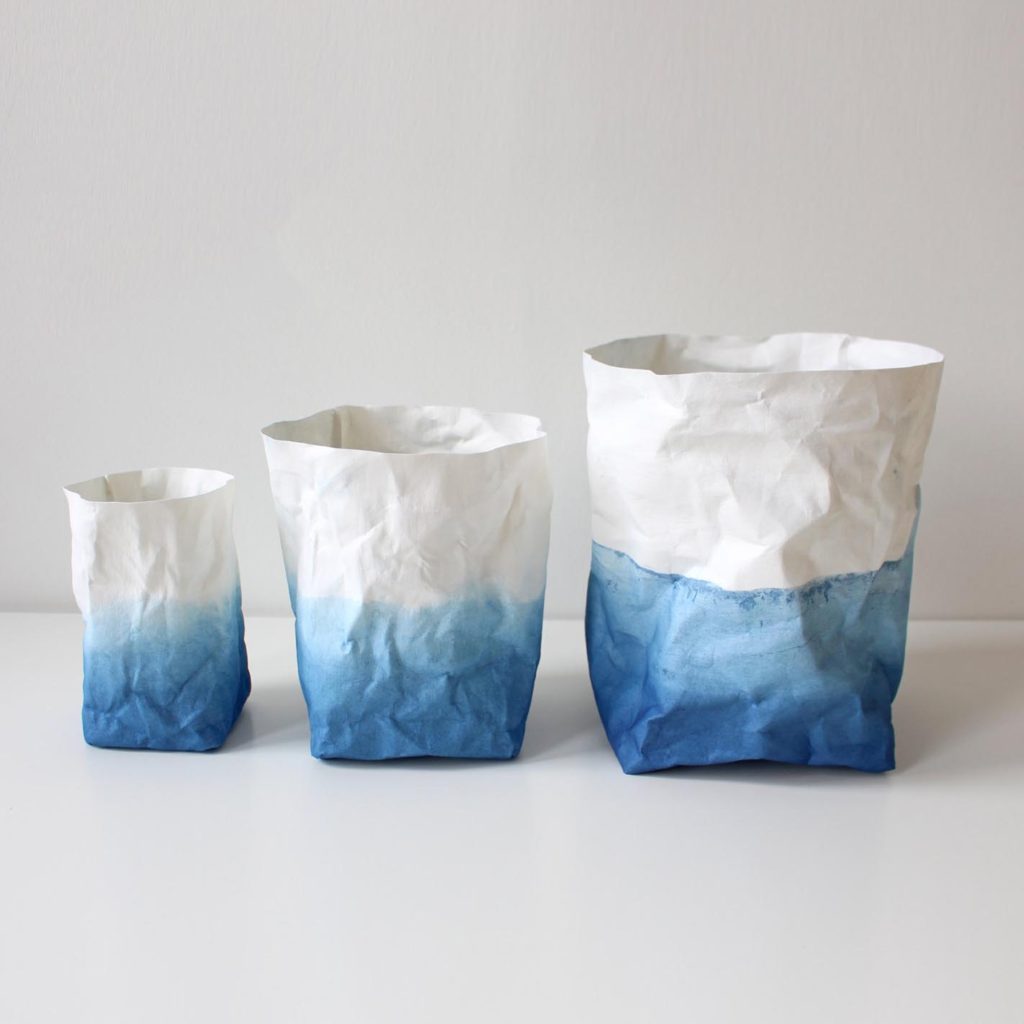 I'm always on the lookout for unique and reusable containers, so I instantly fell in love with these washable paper bags by Warm Grey Company. Washable paper is made from cellulose fiber, a green and renewable resource that has a leather-like feel, yet crinkles like paper.
Each bag is handprinted or hand-dyed and sewn by the artist.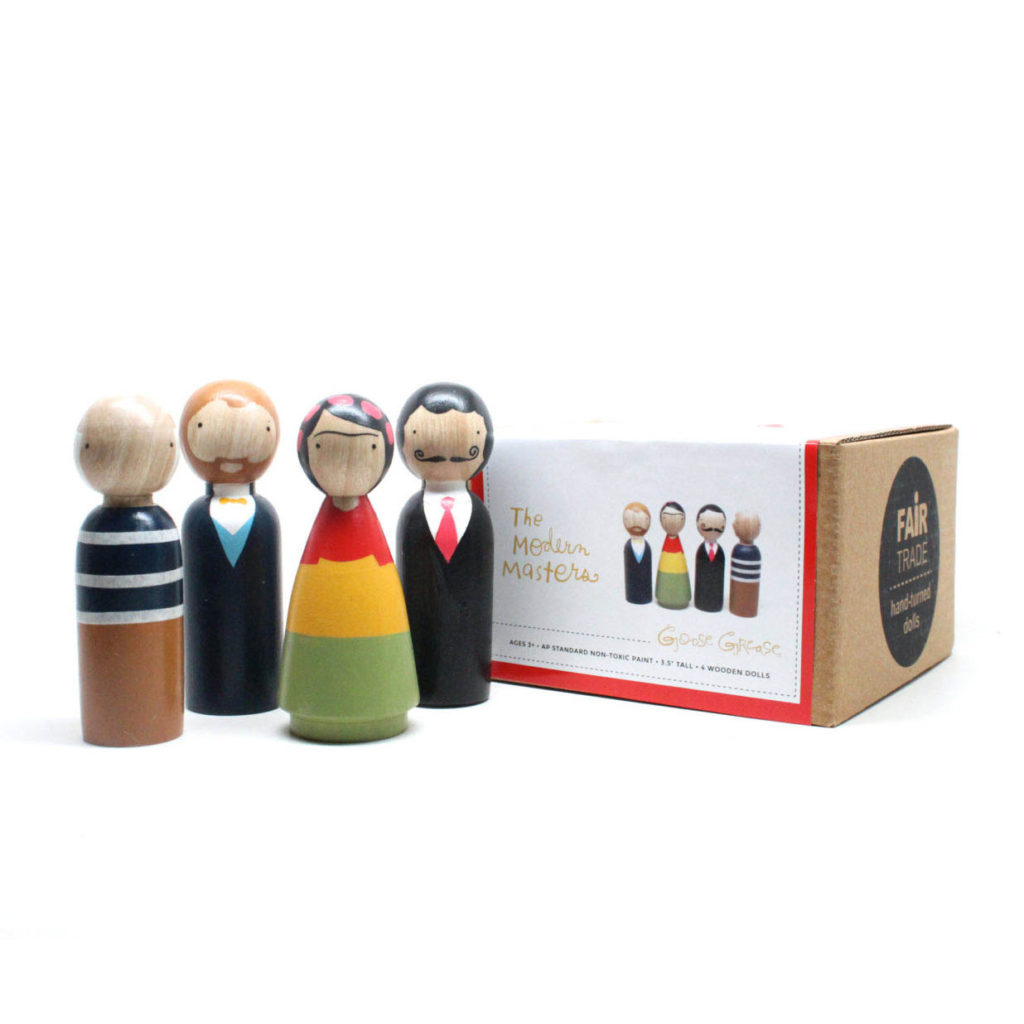 I don't have kids, but I couldn't resist buying a set of these fair trade wooden versions of 'The Modern Masters' last year when I saw this little hand-painted Frida Kahlo! They have a special place on my shelf, and I smile every time I see them. Goose Grease dolls are carefully hand-chiseled on an electric lathe in a small carpentry shop in Bogotá, Colombia. They are made using sustainably forested wood by skilled artisans and are hand-painted with non-toxic, water-based materials. The set I purchased came with a Picasso, Van Gogh, Kahlo, and Dali doll, but the newest sets include an Andy Warhol doll instead of Picasso.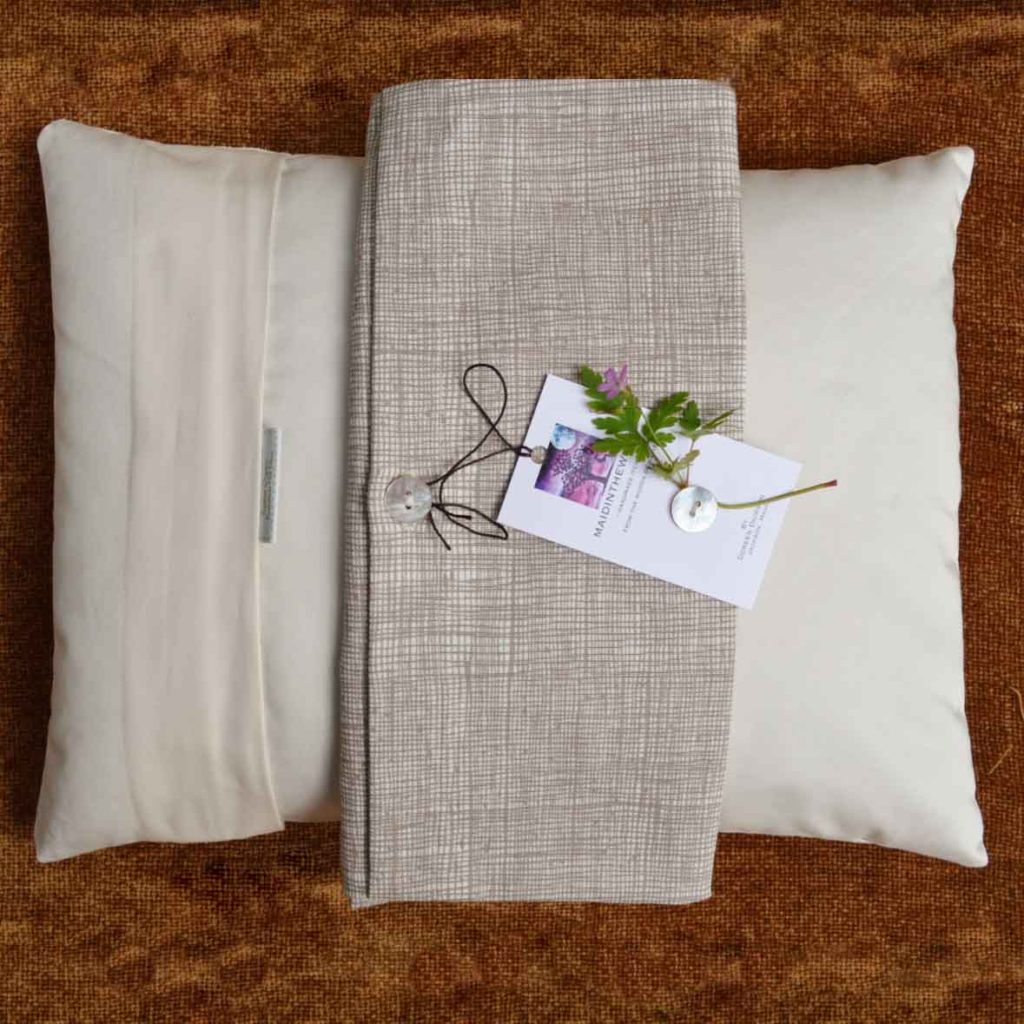 If you haven't yet discovered the amazing benefits of buckwheat hulls, please let me be the one to convert you to a buckwheat hull-enthusiast! I've been purchasing bulk organic buckwheat hulls for the past two years for stuffing my organic stuffed animals. They provide a lovely weighted feel to my toys and are naturally resistant to mold and dust mites. This past summer, I decided to finally try out a buckwheat hull pillow, and I can't rave enough about how much it has improved my sleep! The buckwheat hulls form perfectly to my head and neck and allow air to circulate, keeping my pillow cool. I no longer have to constantly reshape my pillow during the night or flip it over when it becomes too hot on one side. Maid in the Woods offers already made buckwheat hull pillows with organic cases as well as bulk buckwheat hulls for making your own.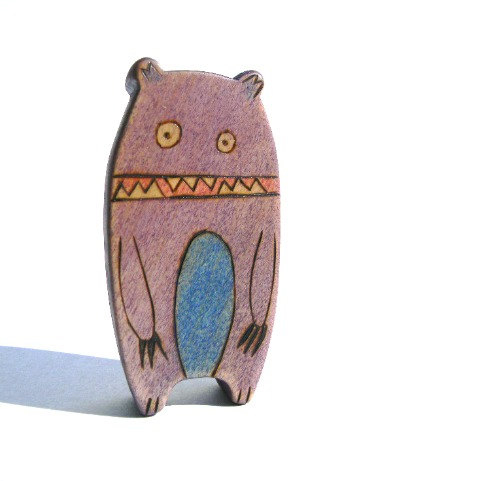 The toy-maker in me couldn't resist this little wooden monster by Outside Everywhere. Each wooden Waldorf toy is made by hand from locally grown and sustainably-harvested poplar wood in Asheville, NC, then painted with non-toxic water-based paints and sealed with organic waxes and oils.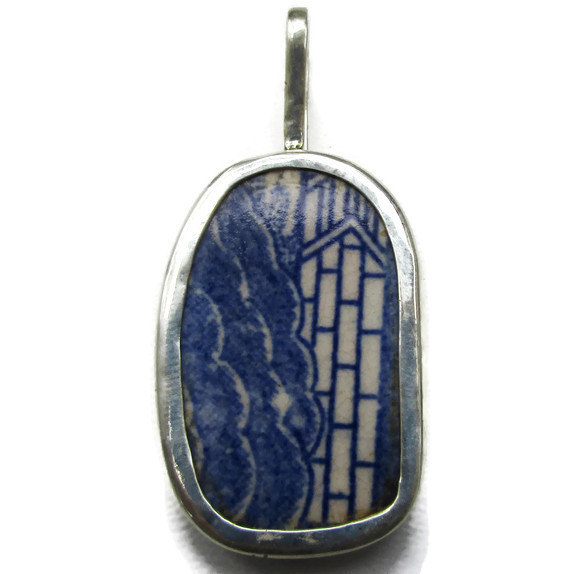 When they're not caring for orphaned lambs, the husband and wife duo of Marooned Jewelry are busy collecting china and pottery pieces from hurricane wreckage on the US Virgin Islands for making into fine silver jewelry. These breath-taking pieces are a beautiful way of upcycling and re-invisioning treasures of the past. Marooned jewelry will even make custom pieces from your own china. If you've ever been unsure of what to do with that broken dish from your grandmother's china set, there's now a way for you to cherish it forever!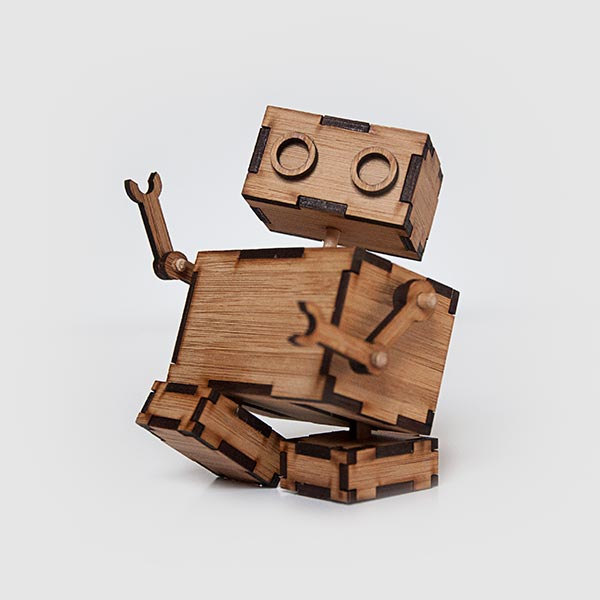 Growing up, I couldn't get enough of legos or any toy that required assembly. When I saw this adorable little Helper Bot Kit by Robomustache, I couldn't resist adding it to my list! Designed in Greensboro, NC, and laser printed in the the US on sustainably grown, Forest Stewardship Council certified bamboo, Robomustache robots come as ready-to-assemble kits that will provide hours of entertainment for kids or the kid in you. Take 25% off your order by using code HOLIDAY2017 now through December 1st!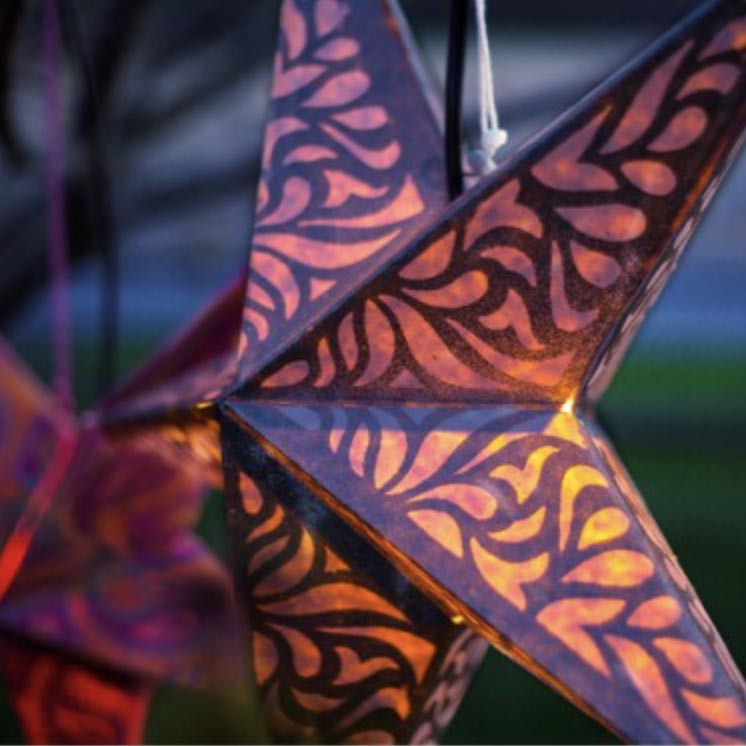 The first time I saw a room lit up with these tree-free, handmade paper lanterns from India, I was completely mesmerized. Sold by Acacia Creations, these fair trade lanterns will effortlessly bring a whimsical feeling to any room. They are made by female artists from recycled cotton hosiery cuttings that are dyed, decorated, and cut out by hand.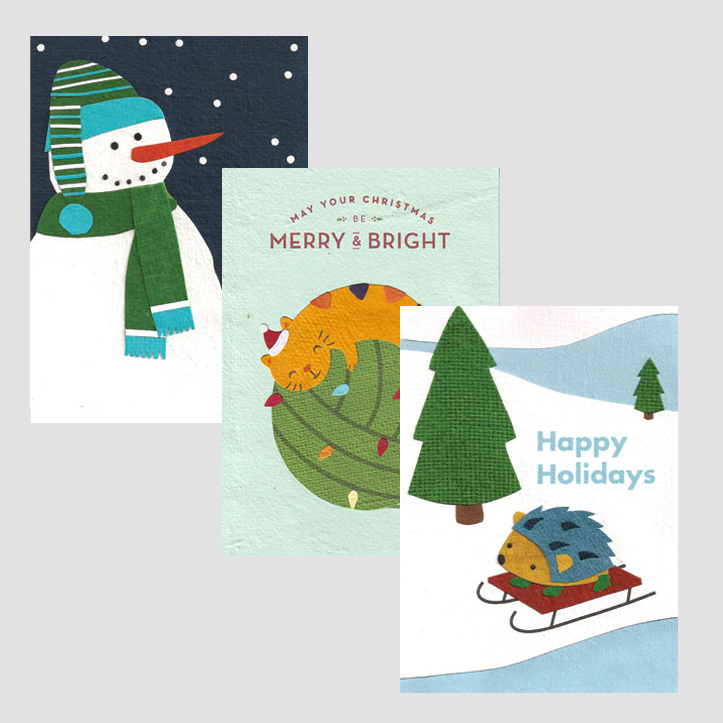 What better way to wish someone "Happy Holidays" than with a fair trade card featuring a snow boot-wearing, sledding hedgehog! Members of the World Fair Trade Organization (WFTO) and the Fair Trade Federation (FTF), Cards from Africa offers handcrafted recycled paper cards made by artists in Rwanda. Their cards are available at a wide variety of locations, but they also offer free shipping on orders over $10!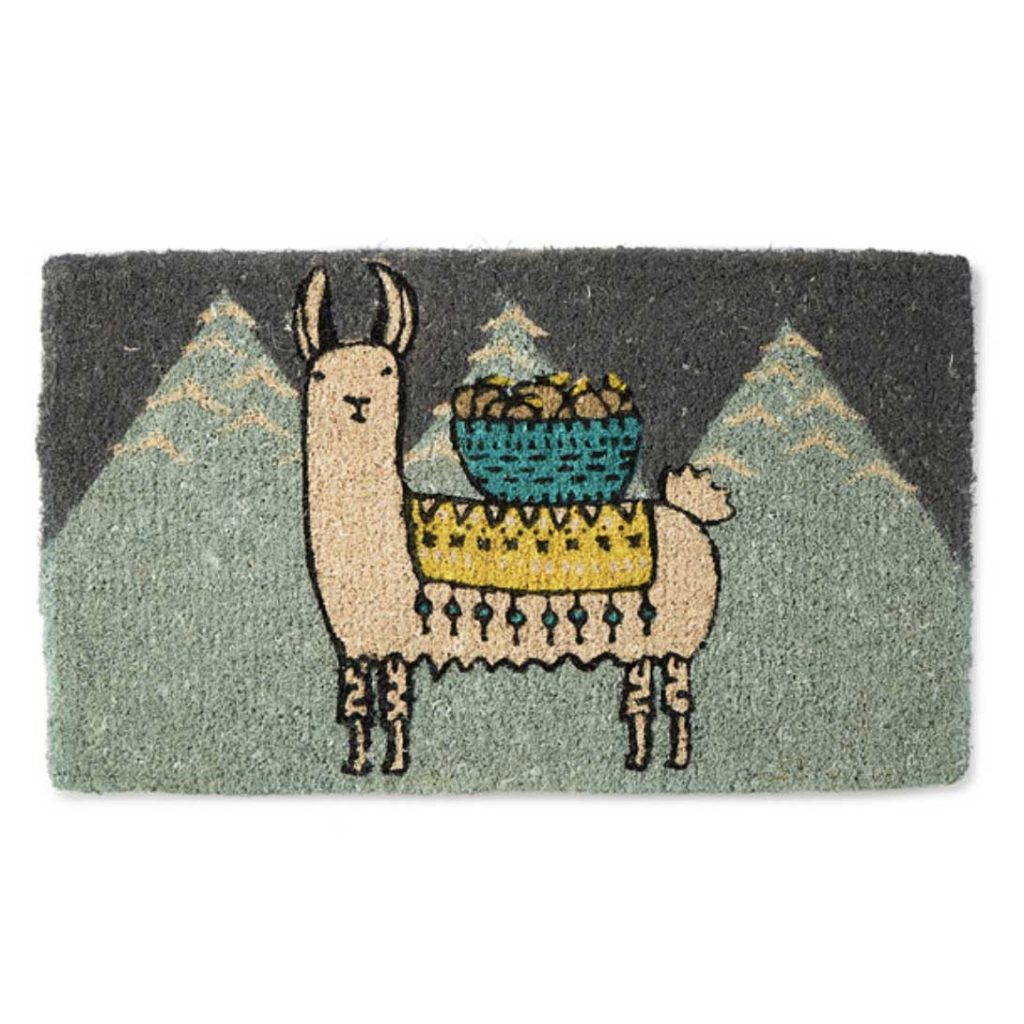 Let's face it–I need Larry the Llama on my doorstep, and you do too! This adorable door mat is available at Uncommon Goods, a curated collection of unique and ethically made items. A portion of each order is donated to a non-profit of the buyer's choice out of the following: City Harvest, American Forests, AmeriCares and the Rape, Abuse & Incest National Network (RAINN).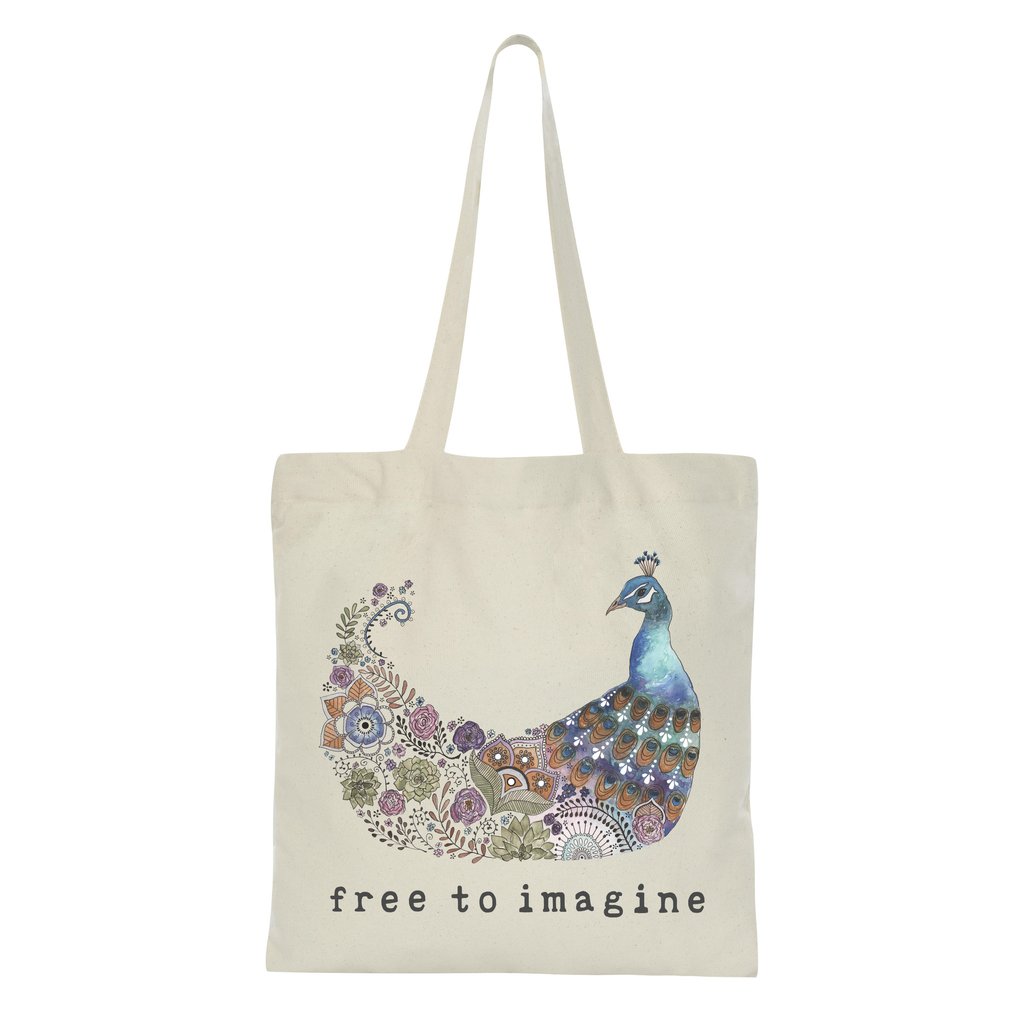 I discovered The Tote Project on Instagram a while back and have been looking forward to the chance to share their 100% organic tote bags printed with water-based, eco-friendly inks. Each of their tote bags is made in a fair trade factory in India by rescued victims of trafficking, and The Tote Project donates 20% of their profits to supporting survivors of human trafficking in the United States as they pursue their dreams.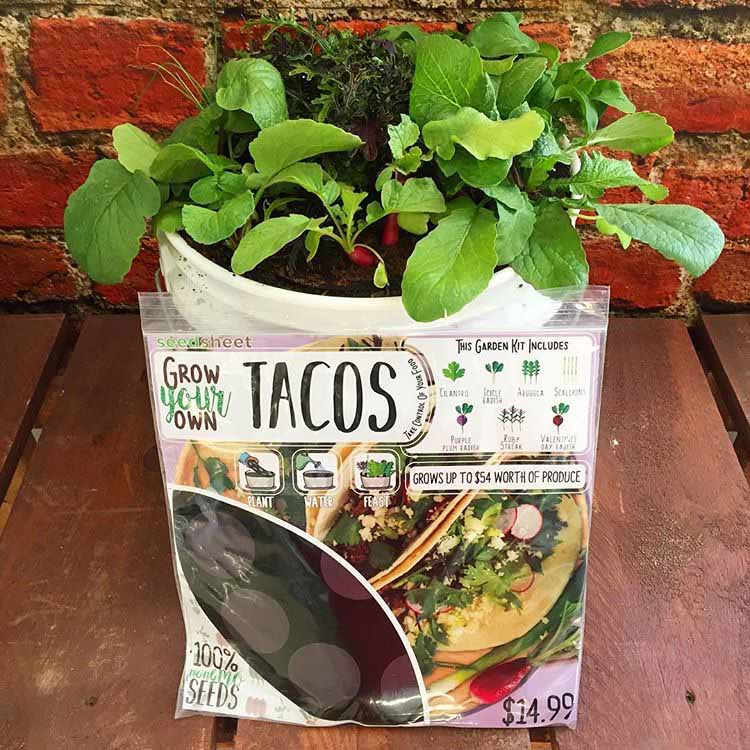 These maintenance-free organic garden kits are the perfect gift for people like me who love to eat fresh but are less than adept in the garden. "Printed" into a weed barrier fabric, these optimally arranged non-GMO seed sheets provide a fail-proof way to create a garden with minimal effort. From 'Grow Your Own Tacos' to 'Grow Your Own Cocktails,' Seedsheets come in a variety of kits allowing you to grow exactly what you need for making your favorite dishes. One of the things I love the most about the Vermont-based company is that they are passionate about teaching sustainable gardening in schools. Their Plant1Pledge1 Program donates a Seedsheet garden to a school for each Seedsheet purchased to help students learn the value of growing their own food.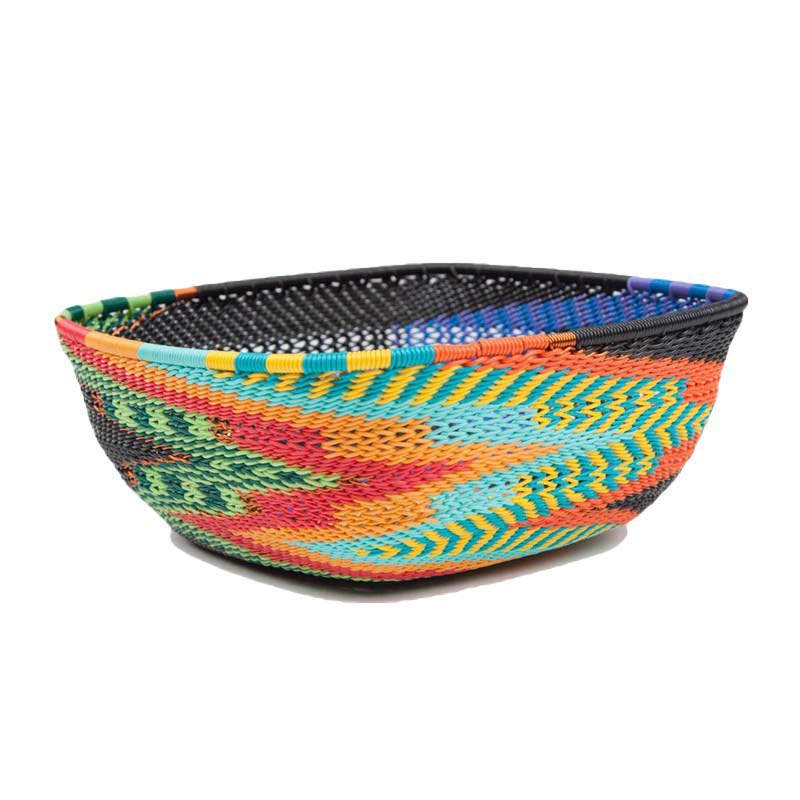 These colorful fair trade baskets woven by Zulu weavers are an oldie but a goodie. I've had one that's been sitting on my desk for years, but it is still one of my favorite home accessories. The colorful designs are woven with upcylced wires and are extremely durable.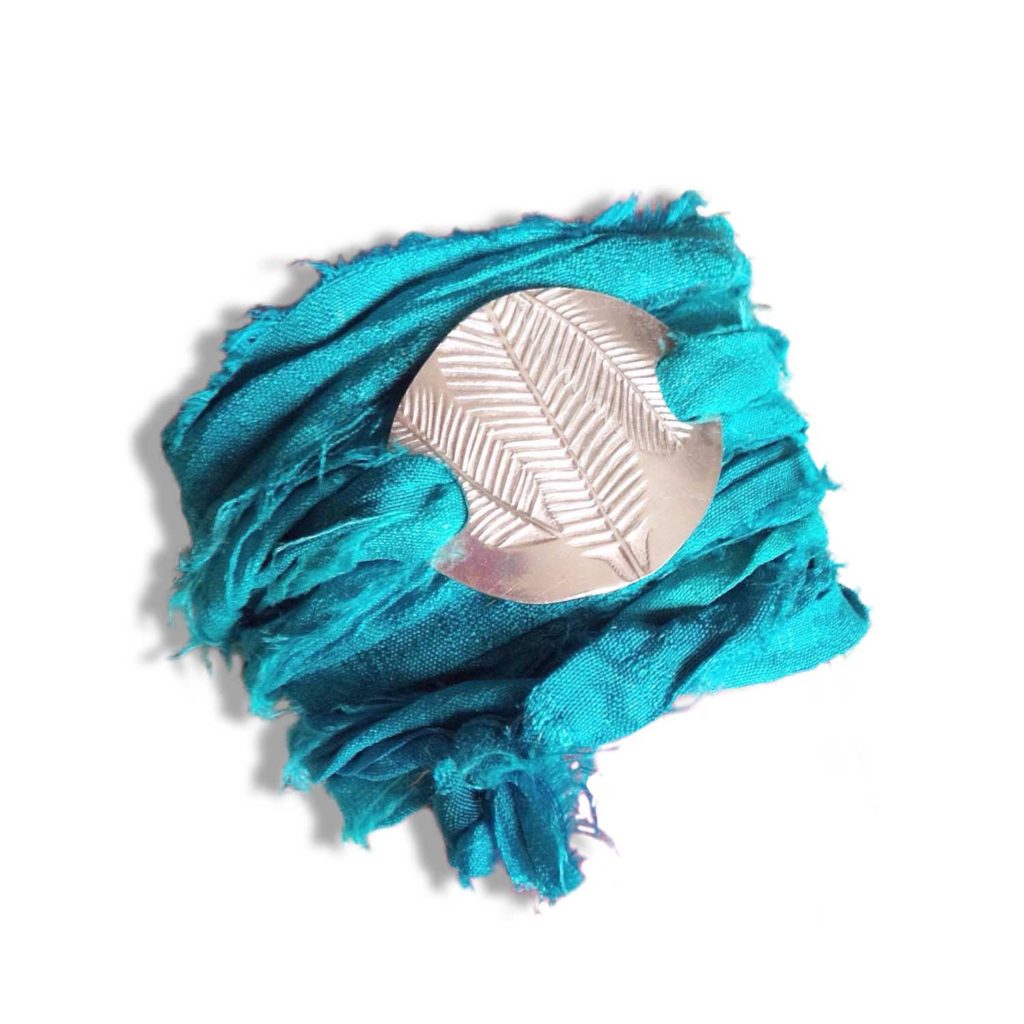 I recently met Ashley Sharp, the owner of Silver Muse Art, at a local craft show and was so intrigued by these silver silk wrap bracelets she makes from fair trade silk and recycled silver. The wraps contain pieces of fair trade recycled saris that are cut into ribbons, and the centerpieces are made from 99.9% pure silver that she handcrafts and fires in her kiln.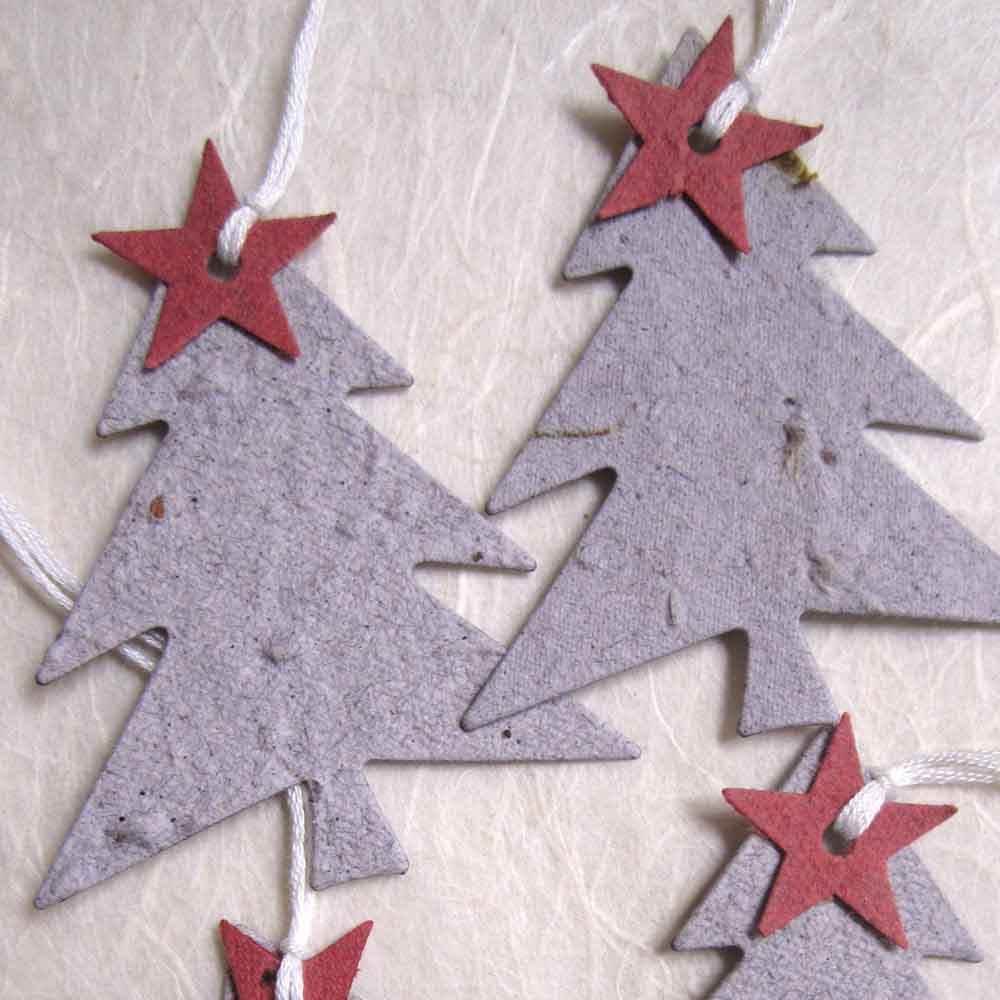 To the eco-conscious individual, one of the most stress-inducing aspects of the holidays is having to watch piles of wrapping paper and packaging get thrown into the trash after barely being used. If you're looking for a truly compostable solution for adorning your gifts this year, consider these super-cute plantable gift tags by Recycled Ideas. Made with recycled paper and packed with high quality seeds, these gift tags can transform what would be trash into a garden. Recycled Ideas is a family-run, independent business with a passion for environmentally responsible production. All of their paper is made fresh to order in small batches using low-impact techniques to ensure none of the seeds or paper go to waste. They offer a variety of different designs for every occasion and a wide selection of seeds.
The only fault I can find in these adorable, handmade wool Zooties is that they don't come in adult sizes! Carefully handcrafted by marginalized artist groups located in rural areas of Kyrgyzstan, each design features hand-stitched detailing and is made using traditional Kyrgyz felting techniques.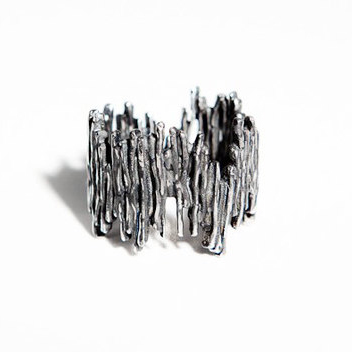 This stunning ring that is a sculpture in itself is made with certified fairmined silver. The artist and owner of Ethical Jewelry EB is an official fairmined licensee. All of her pieces are made from fairmined gold and silver, conflict-free diamonds, and ethically sourced gems.