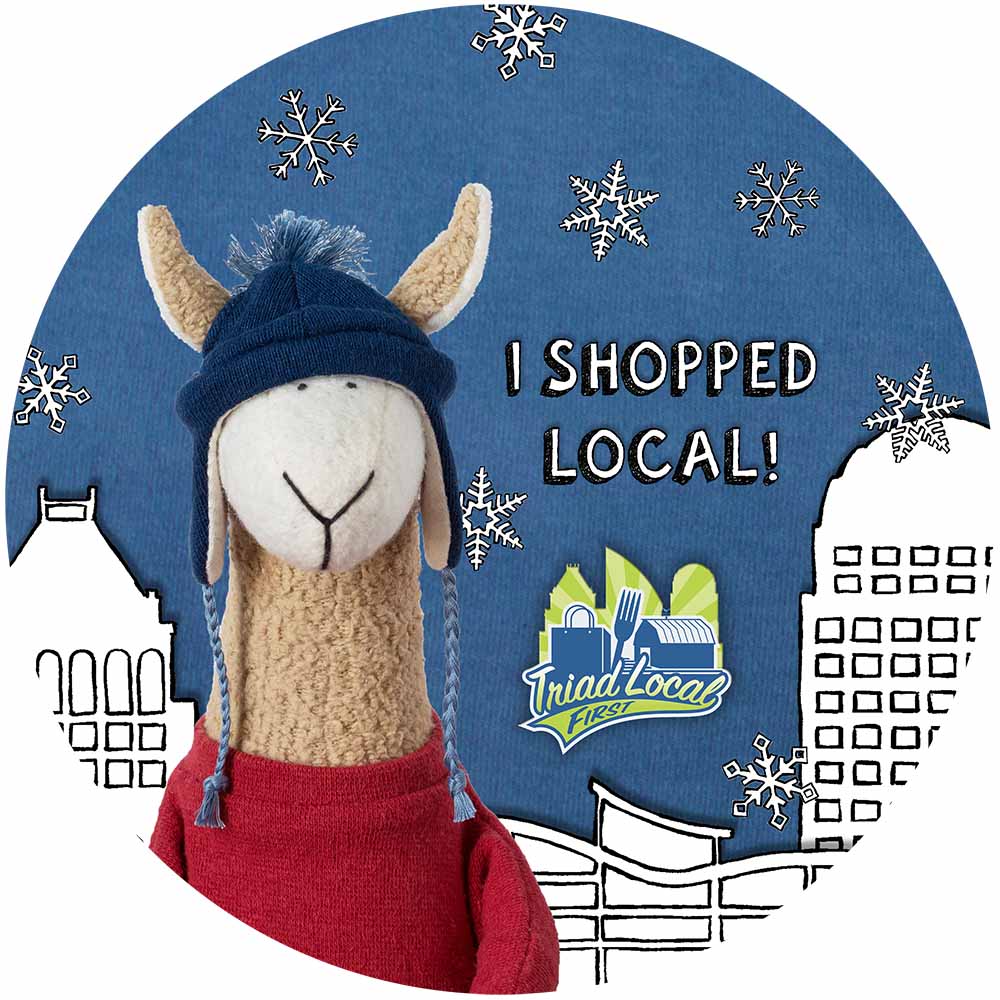 Conscious Consumerism
Buy Local Season
On November 10, 2016 by fluffmonger
With the holidays approaching, it's time to start thinking about things like where to find gluten-free stuffing for your celiac cousin or where to buy the most festive holiday sweater for your cat Sprinkles. While marking off your shopping lists couldn't be any easier now with services like Amazon Prime, there's nothing quite like the feeling of finding exactly what you're looking for nearby and knowing that you're supporting a local business.
This past January, I became a member of Triad Local First, a non-profit organization and network of over 280 locally owned and independent businesses in North Carolina's Triad (Greensboro, Winston-Salem, and High Point).  TLF's mission is to share a commitment to building a strong, local economy and a vibrant, unique community. Since joining, I've learned about so many businesses in the area that I didn't even know existed. It's been amazing to be part of a community of small business owners who are supportive and look out for each other's businesses.
For the past six years, Triad Local First has been hosting 'Buy Local Season' to encourage local shopping throughout the entire holiday season. They run an extensive ad campaign with everything from stickers to billboards to magazine ads. I was ecstatic when a few of TLF's board members approached me this past September about incorporating some of my characters into their ad campaign this year. I have very little experience with graphic design, but I couldn't turn down such an amazing opportunity!
Falafel the Llama, Griswold the Sheep, and Baxter the Horse were my obvious choices for the ad campaign. Falafel loves gardening and yoga, Griswold loves drinking fair trade coffee from the local cafe, and Baxter loves shopping for groceries at the co-op (all of which can be done at Triad Local First locations). I made special edition versions of each of them (which I will be listing soon in my Etsy shop) for the Buy Local Season ads.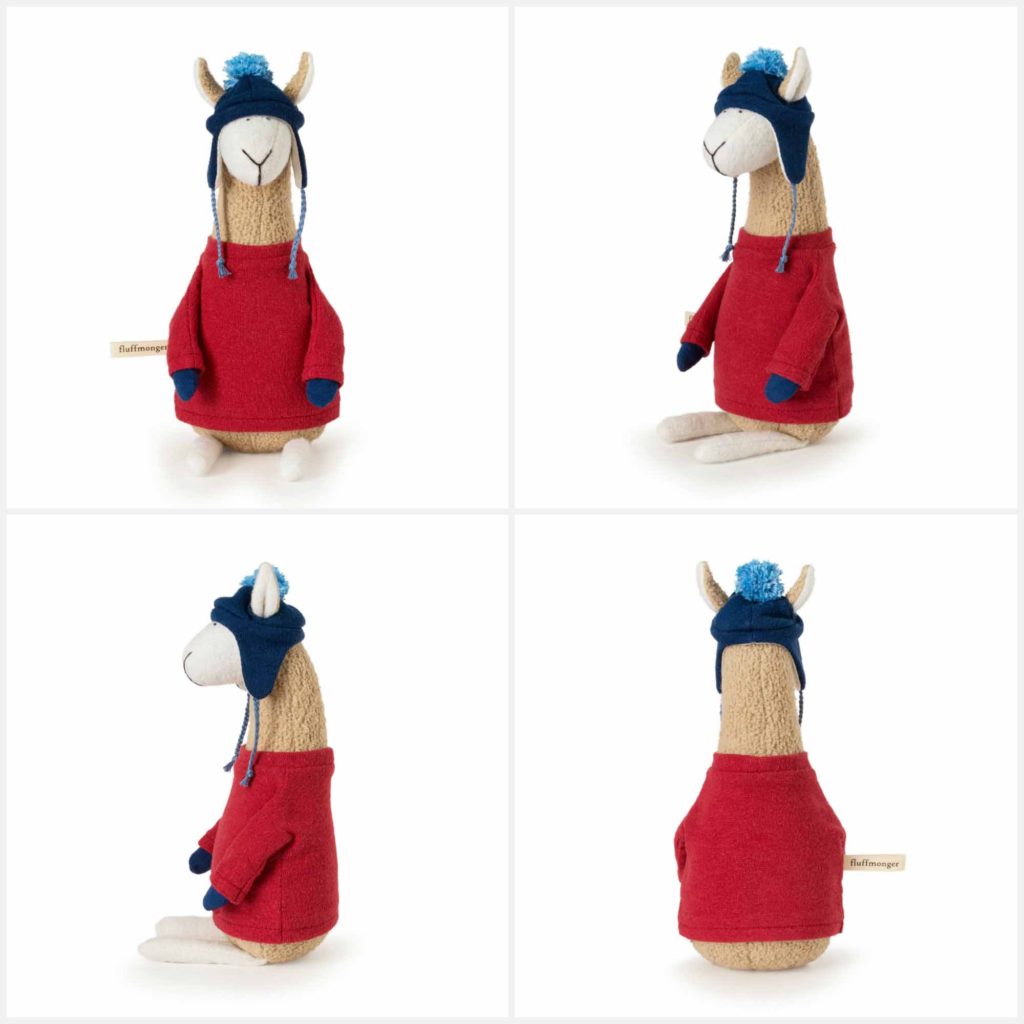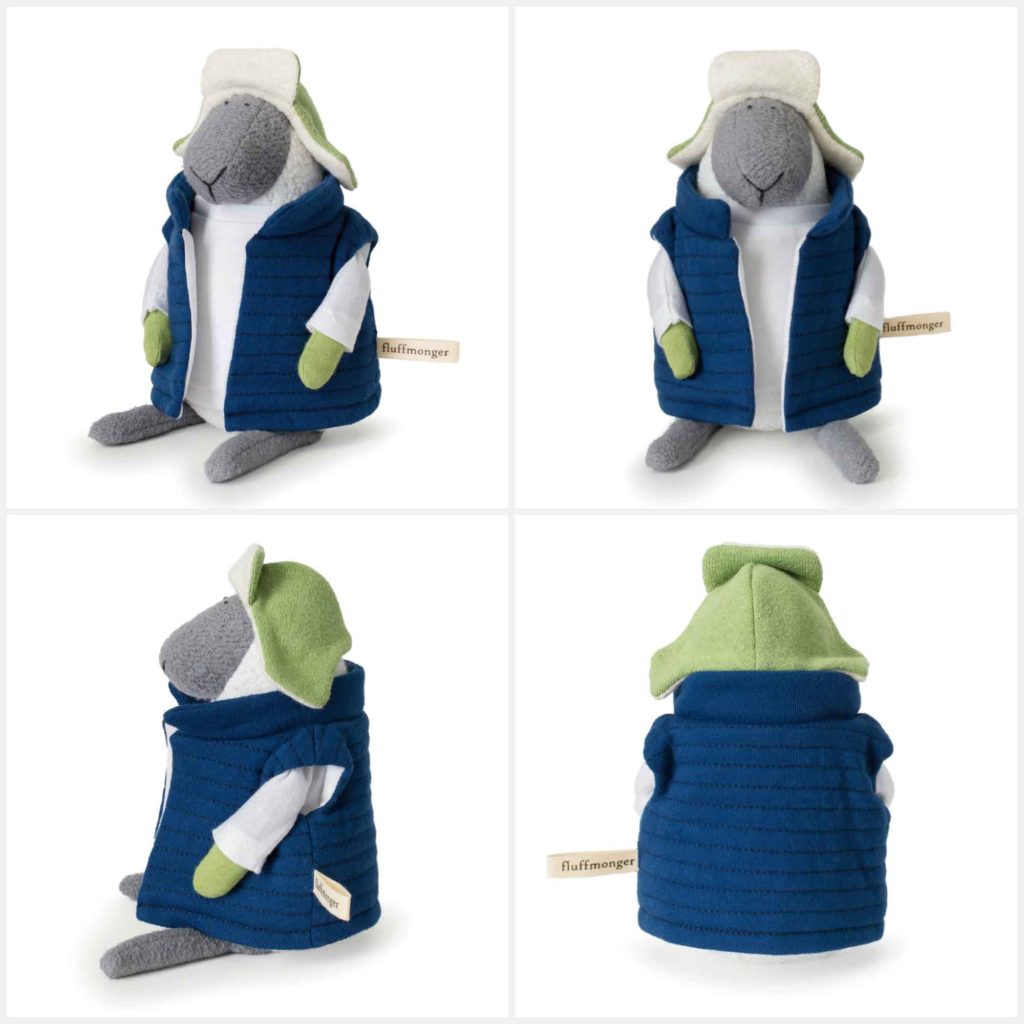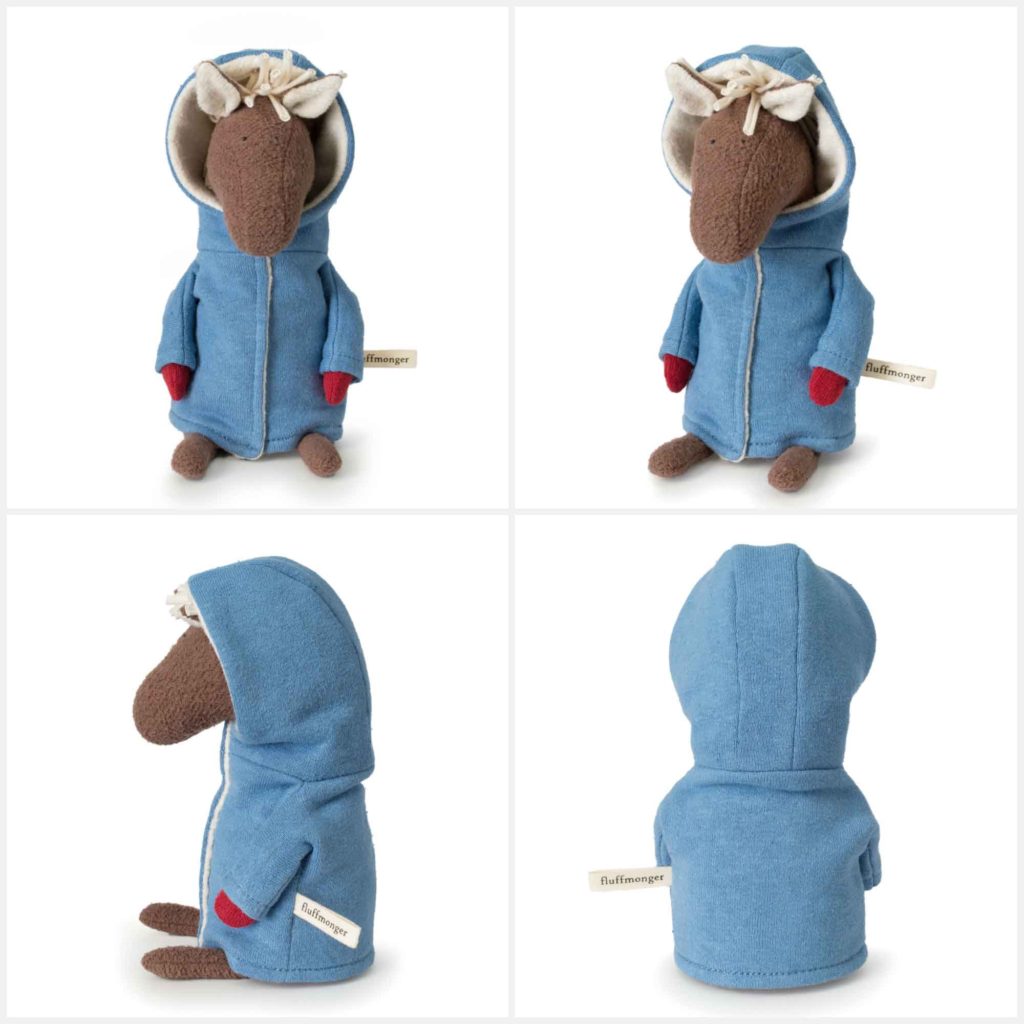 While Falafel and his friends are the main focus of the ad, I wanted to represent the Triad by including iconic buildings from each city–the Jefferson Pilot building in Greensboro, the Wells Fargo building in Winston-Salem, and the Showplace building in High Point. The snow might be wishful thinking for the Triad this time of year, but you never know. We have some crazy weather in North Carolina!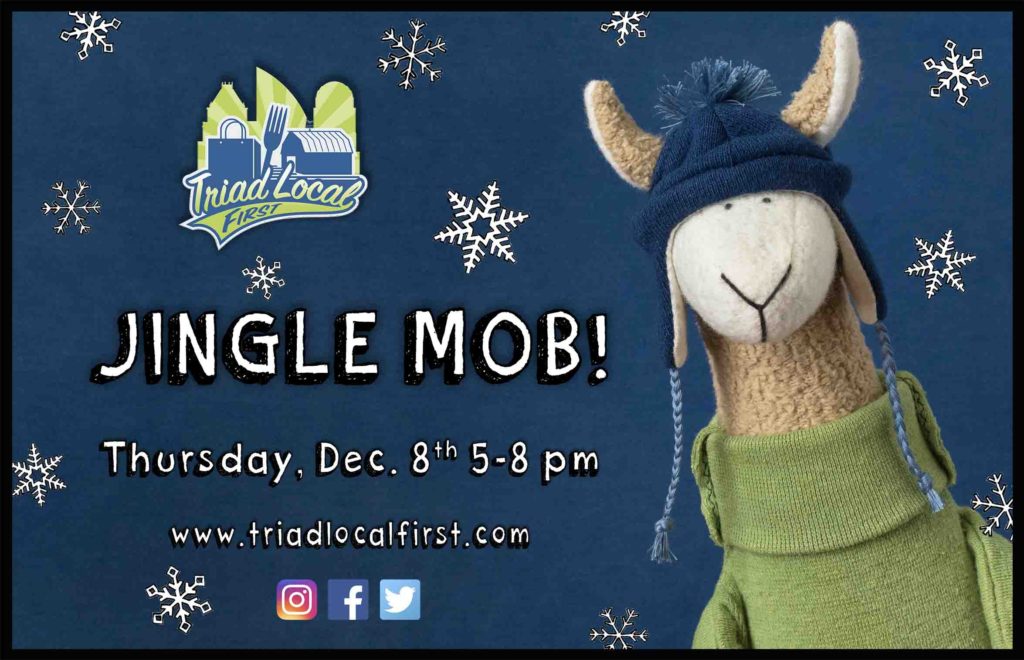 Triad Local First has more than just signage to get you excited about shopping locally for the holidays. They will be hosting a Jingle Mob event, which will take place in over 30 select TLF businesses from 5-8 p.m. on December 8th. Participating stores will be offering special discounts, prizes, refreshments and other deals. TLF is also running a #Buylocalseason contest with a cash prize! You can enter any time during Buy Local Season (Nov. 15th through Dec. 31st) by posting a photo to Facebook or Instagram of you shopping at a TLF business. "Check in" to the business, tag Buy Local Season's Facebook page and/or Instagram profile, and use #Buylocalseason. The two people with the most posts on social media will each win a cash prize, and the business with the most "check ins" will win $600 in advertising!
Even if you don't live in the Triad, you can still enjoy Buy Local Season by shopping local when you can. And you can download free wallpaper and coloring pages featuring Falafel, Baxter, and Griswold shopping local below!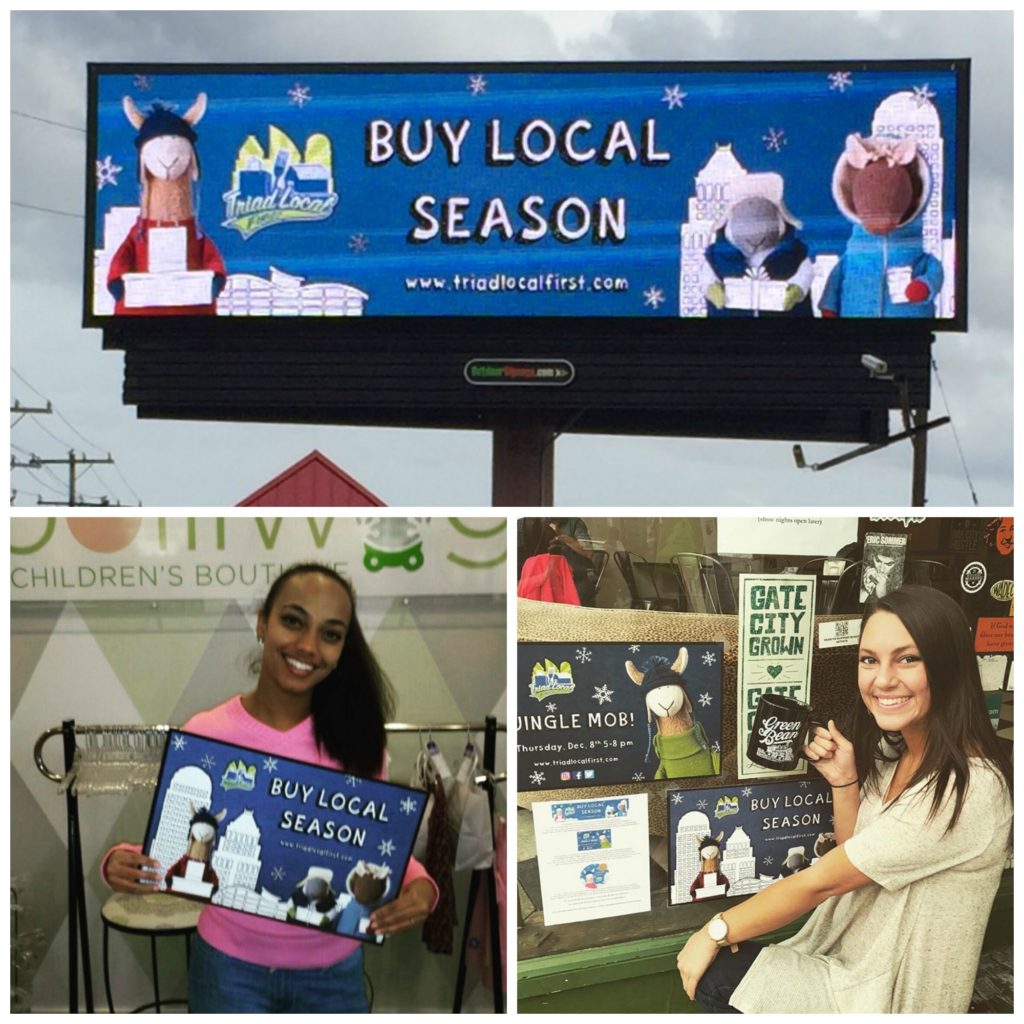 ***Update: Falafel, Griswold, and Baxter have started popping up around the triad! I will be listing the limited edition plush used for the 'Buy Local Season' campaign in my Etsy shop on Tuesday, November 22nd, 2016 at 8 p.m. EST. There is only one of each design, which will come with a signed and numbered tag.***