This is the second post in the series. You can read the first post here.
It's been a few weeks since I announced the children's book I'm working on featuring some of my plush characters. I've been steadily dyeing and sewing outfits for the main characters to wear as well as painting lots of scenery. Between the piles of fabric and all the foam board cutouts I've made, I can barely move in my studio! Even with three large tables, my only usable workspace right now is a cardboard box on the floor; and the only way in and out of my studio is by crawling under a table! I can't complain, though, because I'm having so much fun!
I'm far along enough in the process that I think it's finally time to reveal the characters who will be appearing in the children's book! The three characters I have chosen are Falafel the Llama, Griwsold the Sheep, and Baxter the Horse!
Some of you are already familiar with Falafel, Baxter, and Griswold, but for those of you who aren't:
Falafel has a special place in my heart because he is the first organic stuffed animal I ever made. Griswold and Baxter were the second and third. I designed them with simple features so I could make them entirely with organic and eco-friendly materials.  Over time, I've learned a few tricks that have allowed me to make more complex designs without synthetic fabric, but I still favor the original three characters.  Each of their personalities has a little bit of me in them (clumsy, anxious, obsessed with the bulk bins at the health food store), and their simple features complement the minimalist black and white scenery I enjoy making.
In the children's book, Falafel will be the protagonist, and his two friends, Baxter and Griswold, will be supporting characters. I'll be revealing more about the story line for the book in my next blog post in the series!
If you would like to receive updates on the book and upcoming coloring pages, sign up for my newsletter here.
For a free Falafel the Llama coloring page, click the thumbnail below!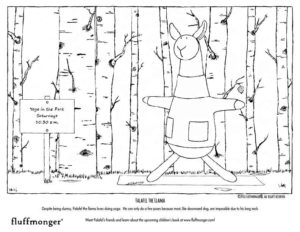 Click here to read the third post in the series.