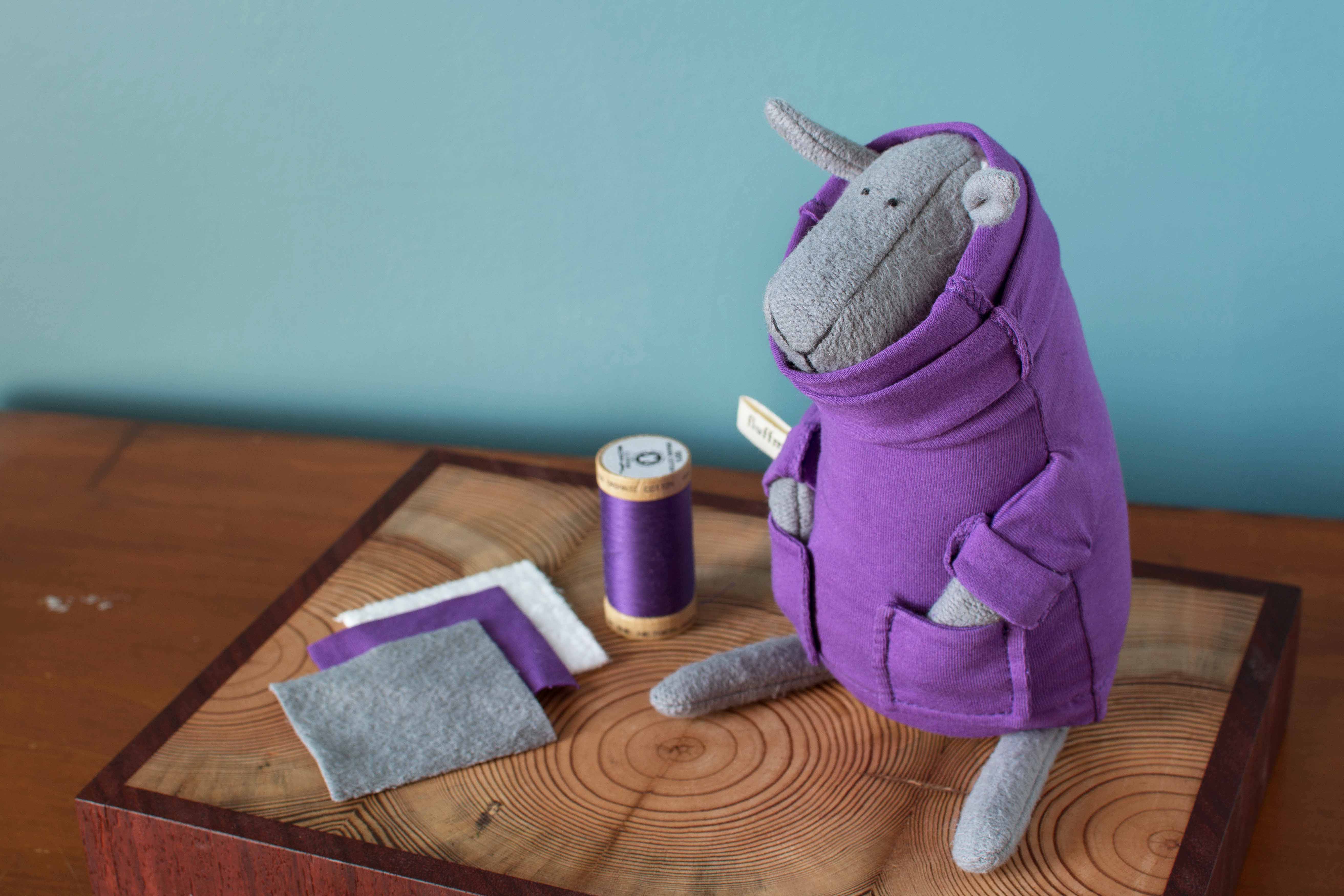 Organic Plush
Fluffmonger Organic Baby Toys – All About the Materials
On November 24, 2015 by fluffmonger
After finishing up last week's craft fair, I had a little bit of time to work on a new Griswold the sheep organic baby toy.  The majority of my customers are adults wanting collectibles for themselves, but I still frequently sell items for babies and children.  I often get asked if my toys are safe for babies, so I thought I would document the process of making Griswold and include some information about the materials I use.
For Griswold's body I used fleece and sherpa made from US grown organic cotton. For the shirt I used a stretch organic cotton knit. Organic cotton is grown without the use of chemical pesticides, so it's better for consumers and the environment. It also reduces work-related health hazards for farmers and factory workers who handle it by reducing their exposure to hazardous chemicals.
When I first started sewing with organic fabrics, I was amazed by how superior they were to the fabrics I had been using. After a few months of sewing only with organic fabrics, I used some old fabric for a project and could not believe the difference! I had never realized how much residue conventional fabrics leave on your skin. My hands felt so grimy that I had to stop sewing periodically to wash them.
Since organic fabrics are not treated with chemical finishes, they feel incredibly soft and clean when you handle them. Conventional fabrics are treated with flame retardants, sizing agents, easy care finishes, and dyes that often contain heavy metals.  The textile industry is one of the biggest contributors to pollution, and new chemicals that are not safety tested are being used in fabric production every day.
Embroidered eyes and features do not pose a choking risk and are safe for babies.  Some of the items in my Etsy shop have glass eyes and are designed as collectibles, but I always note what each item is made with in the item description.
I offer three types of stuffing for my plush toys: organic buckwheat hulls, organic alpaca fiber or wool, and fiber fill made from recycled plastic bottles. Organic buckwheat hulls are my favorite, but I prefer alpaca fiber, wool, or fiber fill for baby toys since they hold up the best to repeated washing. Allergies to lanolin in wool are not uncommon (I've been allergic to it since I was a child), and sensitive individuals can even have issues with alpaca fiber, so I offer hypoallergenic fiber fill stuffing as well.
Below are some of the other organic baby toys I have made.  All toys in my Etsy shop are safe for babies and small children unless noted in the item description.
9 comments